We are so incredibly excited to bring you the Review & Excerpt Tour for Jay Crownover's BETTER WHEN HE'S BRAVE!! BETTER WHEN HE'S BRAVE is a New Adult Contemporary Romance novel
being published by HarperCollins,
and it is the 3
rd
book in
Welcome to the Point Series
.

Better When He's Brave by Jay Crownover
(Welcome to the Point #3)
August 11, 2015
352 pages
Genre: Contemporary Romance, Suspense 18+
Contains: sex, profanity
Source: eARC for Honest review
In New York Times and USA Today bestselling author Jay Crownover's third novel in her sexy, thrilling Welcome to the Point series, a woman's search for repentance leads her to the one man from her past she can't forget as they join forces to save their city—and the explosive love neither can live without.
Titus King sees the world in black and white. Right and wrong. Which is why as a teenager he left behind the only family he'd ever known to make a better life for himself. Now a police detective in one of the worst cities in the country, he can't deny his life has turned into a million different shades of gray.
The new criminal element in The Point has brought vengeance and destruction right to Titus's front door, and the difference between right and wrong is nothing compared to keeping those he loves alive. To add to his already strained moral compass, the beautiful and mysterious Reeve Black has made her way back to town, and she might be as dangerous to Titus as the guy trying to destroy the Point because he needs her—in more ways than one.
Reeve knows all about how ruthless this new threat to destroy The Point can be… and instead of running away, she wants to help. She has a lot to repent for and saving the city, plus the hot cop that she hasn't been able to forget might just be the only way she can finally find some inner peace.
With an entire city poised on the brink of war, Titus and Reeve stand in the crossfire—and it will take two brave souls to fight for the ultimate love.
Another hit from Jay Crownover and my favorite of
The Point
series so far. Of course Titus, the hot cop, would be a major draw to reading this book. I've been wanting to know his story since Bax punched him in the first book. But I've also wanted to know Reeve's story ever since she walked back into
The Point
in the last book. So knowing these two power players were finally going to go head to head made the anticipation tantalizing. But the real deal and how it all played out was well worth the wait.
'Better When He's Bold' left us in a crazy place, knowing some psycho was out there trying to quite literally burn down
The Point
. But Reeve's sudden appearance is what starts this book with a bang, because Reeve knows who the culprit is. Problem is, how to catch the bad guy and what destructive wake will it take to finish him off.
Titus did not disappoint. Crownover's portrayal of our hero cop trying to save the innocents of
The Point
, taking on burden after burden, fighting his attraction to who many would consider the wrong girl, while he himself has his own monsters locked up deep inside, was perfect. I could feel Titus's struggle, his longing, his convictions, his loyalty, his intensity, his heart. And the man that came out on top after all the craziness was even better than he was at the start.
What I liked about Reeve was that she wasn't some damsel in distress. She was fierce, and independent, not just a survivor but someone who wasn't afraid to carve her own path. Now, while the choices she took along that path weren't always good ones, she also had the humility to seek help, the vulnerability to ask forgiveness, and the heart to straighten herself out and seek love in her life anyway.
The attraction between Titus and Reeve oozed off the pages from the very start. But what I loved was the beauty of their burgeoning relationship. On paper these two should not have been together. But instead they came together to be the perfect yin to the other's yang. Did they have sexual chemistry? Yes, big time! But even more than that they came to a deep understanding of the other, and the depths they went to were beautiful. I loved them together.
There's also tons of action and suspense in this story. We're hunting the bad guy, of course, but he's also a psycho bad guy, so we never know what destruction he's going to come up with next. Plus, we also get some real gems to enjoy or ponder for the future in our past and hopefully future other couples. Yes, love has hit the point, but as is so eloquentally spoken by Titus, "Love can look really strange in the Point. In fact, if you aren't paying attention you might miss it altogether because it doesn't look like love at all."
This book has it all: vengeance, forgiveness, hope, sacrifice, friendship, family, violence, sweetness, betrayal, trust, redemption, and love.
The Point
is gritty, seedy, dirty, corrupt, but also littered with seeds of love, loyalty, hope, and people just wanting more, wanting better, and learning how to find that within the confines of gray boundaries. Can't wait to see what happens next!
"Are you speaking from experience?" If she ever took her clothes off for money, entire countries would end up broke.
"No. Just from what I heard when they were in my chair and then from watching how quickly my sister got sucked into it all. There is no escape once the Point has you."
She leaned her head back on the couch and shifted her eyes up to the ceiling. I thought I saw a sheen of moisture dance across the navy-colored surface but then she blinked and it was gone.
"It sucks," I said. She tilted her head to look at me. "The way everything went down with your sister, that sucks. But you tried to help her, tried to save her, and that's what you should focus on."
She made a noise low in her throat and shoved up off the couch. She crossed her arms over her chest and looked down at me with eyes that went flinty hard. "It wasn't enough. What time do you want to head out tomorrow?"
The quick change in conversation forced me to switch gears. "I have to work in the morning, so when I get back."
"Are you actually going to come back after your shift tomorrow?"
So my avoidance tactics hadn't gone unnoticed. "Yes. I'll try and be here before five. You really do need some clothes that fit." Brysen had run a few things up after we had been camped out for a few days and they fit slightly better, but no girl alive seemed to have those ridiculously long legs or the same kind of curves Reeve was working on up top. Brysen's stuff covered her up more than my teenaged neighbor's, but not enough that I didn't get an eyeful when I looked at her.
She linked her fingers together and lifted her arms up over her head in a way that pulled the hem of her tank top up over the indent of her belly button and lifted the edge of her tiny shorts so high I didn't have to use much imagination to envision what all the secret, soft parts of her looked like. Like I needed any more incentive to keep thinking about her and sex when my mind and attention should be anywhere else.
"I can cover it all up, it's not going to change the fact that you want me and are angry about it."
She twirled on her foot and flounced back up the stairs. If there had been a single door in the loft I knew she would have slammed it to make her point.
And don't miss the previous books in the Welcome to the Point series!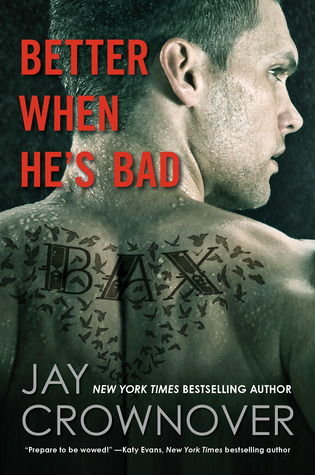 Better When He's Bad (#1)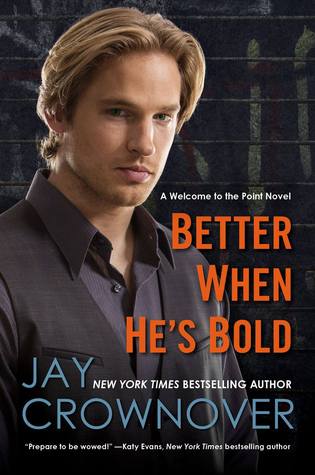 Better When He's Bold (#2)
Better When He's Brave (#3)
About Jay Crownover:
Jay Crownover is the New York Times and USA Today bestselling author of the Marked Men and The Point series. Like her characters, she is a big fan of tattoos. She loves music and wishes she could be a rock star, but since she has no aptitude for singing or instrument playing, she'll settle for writing stories with interesting characters that make the reader feel something. She lives in Colorado with her three dogs.