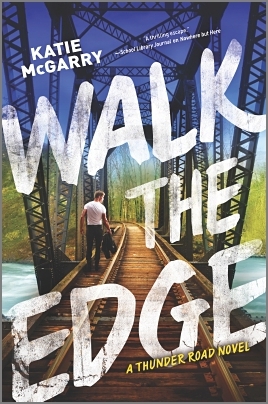 Walk the Edge by Katie McGarry
(Thunder Road #2)
March 29, 2016
384 pages
Genre: Mature YA
Contains: Strong language, sexual references
Source: eARC for Honest review and Personal Purchase
One moment of recklessness will change their worlds.
Smart. Responsible. That's seventeen-year-old Breanna's role in her large family, and heaven forbid she put a toe out of line. Until one night of shockingly un-Breanna-like behavior puts her into a vicious cyber-bully's line of fire—and brings fellow senior Thomas "Razor" Turner into her life.
Razor lives for the Reign of Terror motorcycle club, and good girls like Breanna just don't belong. But when he learns she's being blackmailed over a compromising picture of the two of them—a picture that turns one unexpected and beautiful moment into ugliness—he knows it's time to step outside the rules.
And so they make a pact: he'll help her track down her blackmailer, and in return she'll help him seek answers to the mystery that's haunted him—one that not even his club brothers have been willing to discuss. But the more time they spend together, the more their feelings grow. And suddenly they're both walking the edge of discovering who they really are, what they want, and where they're going from here.
It's been a while since I've read a book that I immediately wanted to re-read, but 'Walk the Edge' broke the cycle. I loved this book, and days after finishing it I am still thinking about Razor and Breanna. I liked 'Nowhere But Here,' which is why I wanted to continue this series. But I loved 'Walk the Edge.'
The big reason 'Walk the Edge' stood out to me so much is how much I genuinely liked the main characters. Razor and Breanna were such a great and interesting pairing. Individually they had such fascinating stories and backgrounds. I loved getting to know them. Then as a couple they really created something special and unique. I loved how these two seeming opposites were such a perfect pairing, and truly took the time and the trust to know each other and fall in love with the whole person.
I loved the quote: "The boy everyone sees but nobody knows is with the girl who everybody knows but nobody sees."
Of course, this isn't just a simple love story. Like 'Nowhere But Here,' this story is riddled with secrets and lies, and the bonus of blackmail. Our trust for the Reign of Terror motorcycle club is put to the test as Razor tries to find the truth to his past. Breanna also has her own secrets, as well as complete jerk blackmailing her. With Razor and Breanna's combined forces of brains and resources, they are determined to help each other. But is just the two of them going to be enough before everything falls apart?
I was originally going to rate this 4.5 stars, but had to raise it to 5 stars because I'm sitting here planning my next re-read. Razor and Breanna are a such a special couple, and despite some frustrations with how they handled things, I loved how everything came together in the end. I'm truly looking forward to the rest of the series.
On a side note: I know that Pigpen is not a teen, but I would love a novella or something about him. I can tell he's got quite the story to tell.
Thunder Road series:
Nowhere But Here #1
Walk the Edge #2