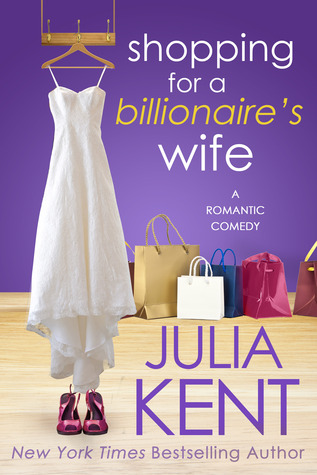 Shopping for a Billionaire's Wife by Julia Kent
(Shopping for a Billionaire #8)
March 23, 2016
268 pages
Genre: Contemporary Romance, Comedy 18+
Contains: strong language, explicit sex
Who needs a SWAT team to escape from their own wedding? Me.
My Momzilla turned us into hostages at our own ceremony, so Declan and I are getting married the good old-fashioned way, just like everybody else.
By calling in his private security team, stealing away before the ceremony by helicopter, connecting to his corporate jet and heading for Las Vegas.
The Boston wedding of the year is about to become a trashy Elvis drive-thru ceremony.
Until the best man spills the beans and Mom, Dad, my sisters, his brothers, my maid of honor, my friend Josh, and even my cat, Chuckles, all come along for the ride.
I can't win, can I?
Oh. Yeah. I already did.
Love conquers all.
Even my crazy family.
***
Shopping for a Billionaire's Wife is the 8th book in the New York Times and USA Today bestselling Shopping for a Billionaire series. After Declan convinces Shannon to escape from their own wedding minutes before the ceremony begins, the madcap adventures are just getting started. When the mother of the bride pries their location out of the tortured best man, the whole crazy crew follows the bride and groom to Las Vegas in this romantic comedy from Julia Kent.
In this installment, we have the continuing story of Declan and Shannon trying to get to the altar. They'd almost gotten there in the last book, but with Marie's crazy momzilla nightmare wedding plans, Declan and Shannon finally jumped off the crazy train, realizing nothing in the wedding Marie planned for them was what they actually wanted. So here we are in Las Vegas, hoping that through the crazy, Declan and Shannon will finally get to say "I do."
I'm still enjoying this series, but this wasn't my favorite. For one thing, there was too much going around in circles. This could have easily been cut own to a novella. And Marie is killing me. She's become too much in these last two books. Her wackiness has taken over the storylines to the point of distraction. And I have mixed feelings about the actual wedding. I found one missing element disappointing, even though I was proud of Declan and Shannon for finally getting it together.
But I still love Declan and Shannon, and Andrew and Amanda. I look forward to more adventures with them (though, less Marie would be nice).