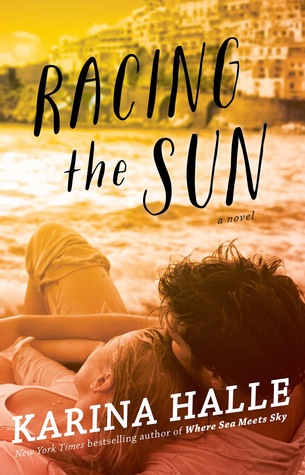 Racing the Sun by Karina Halle
(Where Sea Meets Sky #2)
July 28, 2015
336 pages
Genre: New Adult Romance, Standalone
Contains: sex, profanity
Source: eARC & Personal paperback purchase
From the New York Times bestselling author of Where Sea Meets Sky comes a new adult novel about a young woman who becomes a nanny in Capri and falls for her charges' bad-boy brother.
It's time for twenty-four-year-old Amber MacLean to face the music. After a frivolous six months of backpacking through New Zealand, Australia, and Southeast Asia, she finds herself broke on the Mediterranean without enough money for a plane ticket home to California. There are worse places to be stuck than the gorgeous coastline of southern Italy, but the only job she manages to secure involves teaching English to two of the brattiest children she's ever met.
It doesn't help that the children are under the care of their brooding older brother, Italian ex-motorcycle racer Desiderio Larosa. Darkly handsome and oh-so-mysterious, Derio tests Amber's patience and will at every turn—not to mention her hormones.
But when her position as teacher turns into one as full-time nanny at the crumbling old villa, Amber finds herself growing closer to the enigmatic recluse and soon has to choose between the safety of her life back in the States and the uncertainty of Derio's closely guarded heart.
'Racing the Sun' was a beautifully written story about two people finding each other amongst completely unintentional circumstances. Amber, U.S.-citizen-turned-traveler since graduating college, meets Derio unexpectedly when she takes on a temporary postion teaching English to his siblings, as she has run out of money and is currently stuck in Italy. This chance meeting is not without its bumps. In fact, the situation is unpleasant and has Amber questioning how badly she needs this job. You see, while Amber is full of life and finally taking a chance on the adventurous side of life, Derio and his siblings have been hit a tragic blow, and are barely surviving, let alone thriving, in their daily lives. But each finds something in the other that pushes them out of the comfort zone they have been living in.
I really enjoyed the personal growth on both Amber and Dario's parts. We see everything through Amber's eyes, so it's easier to feel the changes going on with her. And the questions she faces. The circumstances she has found herself in are not easy. The children are not easy. Derio is not easy. And the deeper she gets with this family, the more she changes, both good and bad. There were times I struggled alongside her, reasoning the consequences of her choices and what her future would look like. So many unexpected things were happening to and around her. I really appreciated how much Halle conveyed all the angles and aspects of Amber's life and situation.
Derio has a wealth of heartache to deal with. He's been dealt a heavy blow. But somehow Amber has entered his life, and that tiny spark gives him a glimpse of hope, even if it takes him a while to get there. This is also something I really enjoyed about this book. There's no insta-love. The romance is not quick. There is a slow build, a slow simmer, and I loved that the growth of respect and romance was more than skin-deep. Derio had much transforming to do, and I loved the roll that Amber played in it. These two really turned out to be a beautiful match. But like Amber, Derio also had much to consider about his past, present, and future.
This story was a beautiful, slow-building romance. I fell in love with Derio and Amber and their heartfelt romance. Their circumstances and silly mistakes challenged my feelings on their future, but ultimately I was absolutely rooting for them. But this is also more than just a romance. This a character-building adventure, a family-solidifying connection, and a heart-healing journey. There is so much that Amber, Derio, and Derio's siblings go through and heal from. I loved that this story mixed in the siblings, giving it more depth and insight. I loved that even Amber had personal things to deal with and they were not overshadowed by Derio's issues. And, of course, I loved the international aspect. Having never been to Italy myself, I loved walking in Amber's shoes.
I loved 'Racing the Sun' and Amber and Derio's beautiful story. I would even love to read more about them. This was my first Karina Halle read, and I look forward to more.