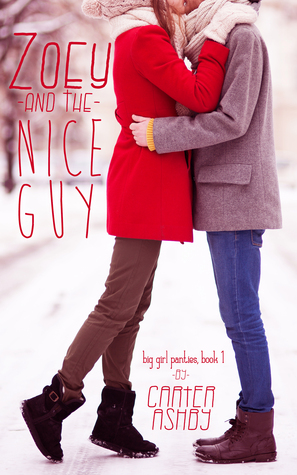 Zoey and the Nice Guy by Carter Ashby
Genre: Contemporary Romance 18+
Contains: strong language, sex
Source: eARC for Honest review
For Zoey Odell, the definition of family is her two best friends, Maya and Addy. So when Maya makes the decision to leave her abusive husband, Zoey is only too happy to lavish her with support and a temporary home. Unfortunately, taking in her best friend also means seeing more of that no good do-gooder, Kellen Bradley.
For Kellen, the definition of family has just been shattered. After finding out that his brother is an abusive monster, he can't help but question himself and his parents. The one thing he knows for certain is that he'll do anything to take care of his sister-in-law and her children. For them, he would walk into gunfire, pass through the flames of hell…even go head-to-head with Zoey Odell.
Zoey has no intention of letting him in, but Kellen is done taking her crap. Life has just gotten real and he's more than ready to shed his nice-guy image. When he finally stands up to her, Zoey starts seeing him in a new light. As the attraction turns mutual, she finds it more and more difficult to hide behind her carefully formed walls. And Kellen is finding himself more and more driven to tear those walls down.
I have mixed feelings about this book, though overall I enjoyed it. First, the title and cover gave me the impression that this was going to be a sweet, fun romance. Well, from the very first chapter we are hit with the sadness of this trio of friends' lives and upbringing. This start leads us into present day and the even sadder circumstances of Maya's life, and how her friends and brother-in-law pull her out of hell. But for Zoey, this also puts her right into Kellen, Maya's brother-in-law's, path, whom she has hated by connection, not reason, for many years and can now no longer avoid.
Character development is very important to me in a story. What I liked about this story is that character development played a big role. Because from the start Zoey completely rubbed me the wrong way. She's abrasive, rash, unreasonable, and mean. Now, she's also an extremely loyal friend, but when that circle of friends is less than a handful, her overall impression is not good. Now Kellen is the nice guy. He's done nothing to deserve Zoey's wrath and is a wonderful brother-in-law and uncle to Maya's kids. But this nice guy routine got old after a while because he was such a doormat and pushover. But what I really appreciated was how these characters had to grow throughout the novel, and that we got to see why they are the way they are and then their desire to improve themselves. So character development was a highlight for me in reading this story.
Plot-wise, this story centers a lot around the topic of abuse and varying types. But with the anti-abuse stance, there was also this push for more forcefulness, at least on Kellen's part. I understand what the author was trying to do as far as Zoey pushing Kellen to be more aggressive, it just didn't always sit right with me when looking at the big picture with Maya. I guess I just had a lot of mixed feelings reading this one. I can't even pinpoint everything I liked and didn't like. Also, while Zoey and Kellen made big strides in their relationship, to the point where I could buy into their chemistry and attraction, Zoey and her relationship with her mom was terrible and weird and I felt like little to no progress was made there.
Overall, I enjoyed Zoey and the Nice Guy. It is a fast, engaging read, without any lull or dragging parts, and interesting characters and circumstances. I didn't love it, and felt something was missing and additionally some things didn't sit right with me. But overall I enjoyed it and would like to see what happens in Maya and Addy's stories.