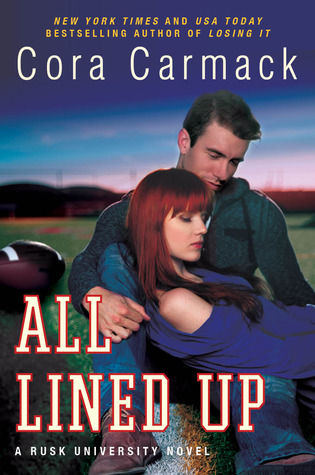 All Lined Up by Cora Carmack
Contains: sex and mature language
Source: Personal purchase
In Texas, two things are cherished above all else—football and gossip. My life has always been ruled by both.Dallas Cole loathes football. That's what happens when you spend your whole childhood coming in second to a sport. College is her time to step out of the bleachers, and put the playing field (and the players) in her past.
But life doesn't always go as planned. As if going to the same college as her football star ex wasn't bad enough, her father, a Texas high school coaching phenom, has decided to make the jump to college ball… as the new head coach at Rusk University. Dallas finds herself in the shadows of her father and football all over again.
Carson McClain is determined to go from second-string quarterback to the starting line-up. He needs the scholarship and the future that football provides. But when a beautiful redhead literally falls into his life, his focus is more than tested. It's obliterated.
Dallas doesn't know Carson is on the team. Carson doesn't know that Dallas is his new coach's daughter.
And neither of them know how to walk away from the attraction they feel.
**This review will be quick, since I read it a while ago, but still want to take the time to review it.**
Despite owning several Cora Carmack books, this is the first time I've actually read one. Fortunately, I enjoyed it and look forward to reading her other books. All Lined Up was very engaging and an easy read to get into and be pulled right in until the end. Dallas and Carson were well-written, and I liked getting to know their circumstances regarding football and its affect on their lives. Despite their mutual reasons for needing or wanting to stay out of a relationship with each other, their chemistry was clear and you couldn't help but root for them to work out. This story isn't overly steamy or overly angsty, which was fine with me. It was a great addition to the New Adult genre, and I look forward to the rest of the books in this series.