Happy Release Day to November 9 by Colleen Hoover!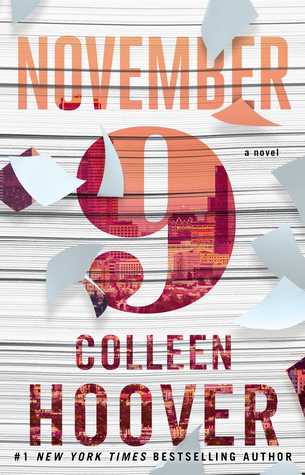 November 9 by Colleen Hoover
November 10, 2015
320 Pages
Genre: New Adult Romance
Fallon meets Ben, an aspiring novelist, the day before her scheduled cross-country move. Their untimely attraction leads them to spend Fallon's last day in L.A. together, and her eventful life becomes the creative inspiration Ben has always sought for his novel. Over time and amidst the various relationships and tribulations of their own separate lives, they continue to meet on the same date – November 9th –every year. Until one day, Fallon becomes unsure if Ben has been telling her the truth or fabricating a perfect reality for the sake of the ultimate plot twist.
Can Ben's relationship with Fallon—and simultaneously his novel—be considered a love story if it ends in heartbreak?
With her signature humor, fast-paced dialogue, and heart-tugging drama, Colleen Hoover delivers a story that will both break and bind readers hearts, leaving them desperate for just one more November 9th with Fallon and Ben.
Colleen Hoover is the #1 New York Times bestselling author of Slammed, This Girl, Point of Retreat, Hopeless, Losing Hope, Finding Cinderella, Maybe Someday, Ugly Love, Maybe Not, and Confess. She lives in Texas with her husband and their three boys.
FIND COLLEEN ONLINE:
Website: www.ColleenHoover.com
Facebook: www.Facebook.com/ColleenHoover
Twitter: @ColleenHoover
Instagram: @ColleenHoover
NOVEMBER 9 by Colleen Hoover
Atria Books | 320 pages | Paperback ISBN: 978-1-5011-1034-4, $16.00 |
eBook ISBN: 978-1-5011-1035-1 | November 10, 2015