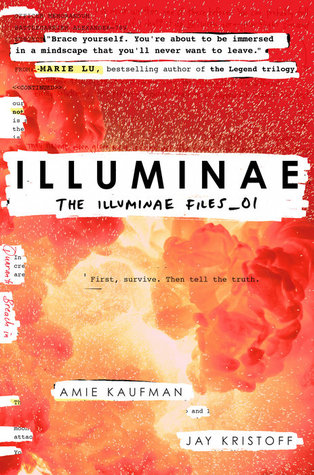 Illuminae by Amie Kaufman & Jay Kristoff
(The Illuminae Files #1)
October 20, 2015
599 pages
Genre: YA Sci-Fi
Contains: blacked-out profanity (referenced, but not written; literally blacked-out), sexual references (only some referencing, no sex), violence, death
Source: ARC for Honest review
This morning, Kady thought breaking up with Ezra was the hardest thing she'd have to do.
This afternoon, her planet was invaded.
The year is 2575, and two rival megacorporations are at war over a planet that's little more than an ice-covered speck at the edge of the universe. Too bad nobody thought to warn the people living on it. With enemy fire raining down on them, Kady and Ezra—who are barely even talking to each other—are forced to fight their way onto an evacuating fleet, with an enemy warship in hot pursuit.
But their problems are just getting started. A deadly plague has broken out and is mutating, with terrifying results; the fleet's AI, which should be protecting them, may actually be their enemy; and nobody in charge will say what's really going on. As Kady hacks into a tangled web of data to find the truth, it's clear only one person can help her bring it all to light: the ex-boyfriend she swore she'd never speak to again.
Told through a fascinating dossier of hacked documents—including emails, schematics, military files, IMs, medical reports, interviews, and more—Illuminae is the first book in a heart-stopping, high-octane trilogy about lives interrupted, the price of truth, and the courage of everyday heroes.
Wow! I'm so impressed by 'Illuminae.' My husband read this book first, and couldn't recommend it enough. I can now understand why. The crafting of Kaufman and Kristoff to first imagine, and then figure out how to create this fascinating novel, is quite impressive. But it would have fallen flat if not for the additional level of humanity and character it also displayed brilliantly.
From the start, we are thrust into action, intensity, and suspense. Kady and Ezra just happened to break up the day their planet was doomed. As Kady and Ezra are rescued, they are not out of danger yet. Not even close. What proceeds after the attack is nothing short of addicting. Who attacked them? Why? Are they going to be able to flee fast enough to get out of mortal danger? Who's in charge? Who survived? Will Kady and Ezra reconcile? And so many more questions.
But I will not go into detail. Because I really loved the journey this book took me on. It was a wild ride. So many twists and turns. A rich bevy of secondary characters. Truly heartbreaking situations to experience. Heartfelt depths I wasn't expecting. Danger at every turn. And a love story that felt like it spanned the universe. The stars of the show are definitely Kady and Ezra. I absolutely loved these two. And the AI took it to a whole new level.
The size of this book may be intimidating (almost 600 pages), but it is completely worth it. And it goes quickly, as it is constructed around an amazing conglomeration of documents, emails, IMs, schematics, files, reports, interviews, and some very creative usage of word play and graphing. The uniqueness of this book is stellar. I loved how all the pages and their graphics were displayed.
I absolutely loved 'Illuminae' and highly recommend it. The end of this book leaves us in a good place. No major cliffhanger or anything. But it does leave us with a taste for the future. I cannot wait to see what amazing things these authors think of next!