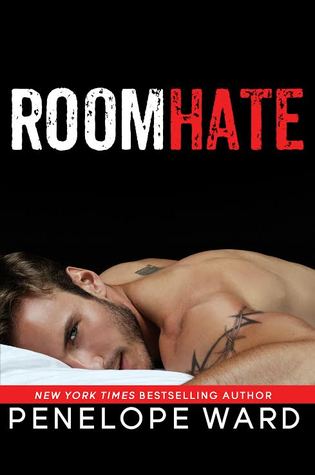 RoomHate by Penelope Ward
February 3, 2016
280 pages
Genre: Contemporary Romance 18+
Contains: Explicit sex, mature language
Source: Personal purchase
Sharing a summer house with a hot-as-hell roommate should be a dream come true, right?
Not when it's Justin…the only person I'd ever loved…who now hates me.
When my grandmother died and left me half of the house on Aquidneck Island, there was a catch: the other half would go to the boy she helped raise.
The same boy who turned into the teenager whose heart I broke years ago.
The same teenager who's now a man with a hard body and a hardass personality to match.
I hadn't seen him in years, and now we're living together because neither one of us is willing to give up the house.
The worst part? He didn't come alone.
I'd soon realize there's a thin line between love and hate. I could see through that smug smile. Beneath it all…the boy is still there. So is our connection.
The problem is…now that I can't have Justin, I've never wanted him more.
Author's note – RoomHate is a full-length standalone novel. Due to strong language and sexual content, this book is not intended for readers under the age of 18.
What do you do when a friend highly recommends a book to you, but after starting it you feel like DNF'ing it? Well, that was my experience with RoomHate. Honestly, I would have DNF'd in the first half of the book because I was just not feeling the story or the characters. But I figured my friend would not have recommended it unless it got better. And it did. Eventually.
The first half was a real chore for me. The dynamic between the main characters was uncomfortable. I get that they had years apart after a misunderstanding, so I get the awkwardness between them. But it went beyond that. Plus, the fact that he had a girlfriend and the MC could hear them having sex in the other room really grossed me out. My friend said there was no cheating, so I felt I needed to stick it out with the story, but it wasn't because I was in love with it. I was desperately trying to find the point of redemption in the story.
What can usually save a story for me at this point is great characters. Characters that I sympathize with and that I want to root for. Unfortunately, I just didn't love Amelia and Justin. Both of their behavior in the past was stupid and immature, but they were young. But now, nine years later, Justin is older but beyond immature. He's a crude jerk. I get that he was hurt by her past actions. I get that he has unresolved feelings and he's confused. Doesn't mean I have to like him. Now, he does eventually redeem himself, but it was a long road for me to like him. Amelia isn't as bad as Justin in the beginning. I felt sorry for her, and could see that she was trying to make up for her past mistakes. So Amelia had the opposite effect on me. She gradually declines in my view. She gets more and more insecure and whiny. The second half was frustrating with her insecurities and neediness. Good thing Justin started looking so much better. He made up for her decline.
Fortunately, the story started to grab me with the introduction of another important character in the second half. I did find the way Justin and Amelia went in circles to be exhausting, but I was much happier with the change of events in the story, and in Justin. I wanted the heartfelt story that so many others experienced, and was glad to finally be approaching it. The last quarter of the book was definitely my favorite. If the entire story had been like this, I would have loved it. I can see why some people love this story because the ending is absolutely wonderful. It was tender and sweet and exactly what I'd hoped for in this story.
My absolute favorite parts were with Justin and Bea. Always Bea. She was a breath of fresh air and the perfect addition to the story. I could have lived on the pages of Justin and Bea. I wish I could have given the story 5 stars just based on Justin and Bea, but I can't. But truly they were the absolute sweetest, and between them and the ending, redeemed the story.