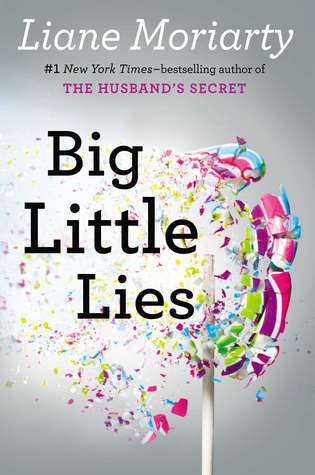 Big Little Lies by Liane Moriarty
July 29, 2014
460 pages
Genre: Contemporary Fiction, Mystery
Source: Personal purchase
Big Little Lies
follows three women, each at a crossroads:
Madeline is a force to be reckoned with. She's funny and biting, passionate, she remembers everything and forgives no one. Her ex-husband and his yogi new wife have moved into her beloved beachside community, and their daughter is in the same kindergarten class as Madeline's youngest (how is this possible?). And to top it all off, Madeline's teenage daughter seems to be choosing Madeline's ex-husband over her. (How. Is. This. Possible?).
Celeste is the kind of beautiful woman who makes the world stop and stare. While she may seem a bit flustered at times, who wouldn't be, with those rambunctious twin boys? Now that the boys are starting school, Celeste and her husband look set to become the king and queen of the school parent body. But royalty often comes at a price, and Celeste is grappling with how much more she is willing to pay.
New to town, single mom Jane is so young that another mother mistakes her for the nanny. Jane is sad beyond her years and harbors secret doubts about her son. But why? While Madeline and Celeste soon take Jane under their wing, none of them realizes how the arrival of Jane and her inscrutable little boy will affect them all.
Big Little Lies
is a brilliant take on ex-husbands and second wives, mothers and daughters, schoolyard scandal, and the dangerous little lies we tell ourselves just to survive.
This book went beyond any expectations I had coming into it. Such a masterfully crafted, multi-layered story. Do you have to be a mom to understand this book? No. But I will say that being a woman and a mom certainly gave me a deeper appreciation for the personalities involved story. But then there are things that happen in this book that I have no experience with, and I still clung to every moment. So really, just go ahead and saturate yourself in this read.
Big Little Lies
starts almost at the end, and then you go back in time and get the real story, and this format worked really well. The building upon building, layering upon layering, was genius. And all these characters gave this story so much life. We have our three main gals we are following: Madeline, Celeste, and Jane. But the incredible cast of characters involved in this story beyond this trio makes this book whole. So much thought must have gone into this, and I appreciate every word. I loved the depth of character development involved. They felt like real people. I think I've even met some of these people. But all the what-happens-behind-closed-doors thing was the pièce de rèsistance.
And then there's the whole dead person thing. Not only are we getting all the juicy bits and pieces of who these characters are, what the heck is really going on at this school, why these moms are so hurtful and judgy, and what everyone's home life is really like when no one else is around. Not only do we get that, but then we are trying to figure out the whole time who died, why, and how. I read this in two days because I was so gripped by the story. I loved trying to piece everything together, figuring some stuff out, but having to wait until practically the end for it all to come together. The journey of getting there was amazing. Then finally getting to the end, to the climax! I was on pins and needles. It was fantastically crafted. Truly. And then the overall message was so beautiful and strengthening. A new favorite read for me!