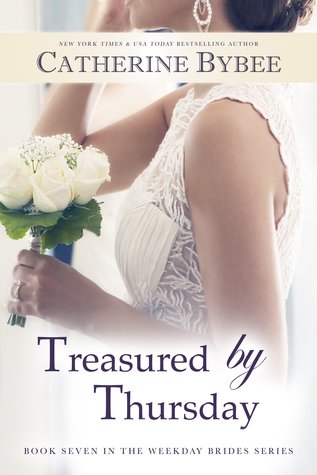 Treasured by Thursday by Catherine Bybee
(The Weekday Brides #7)
August 18, 2015
368 pages
Genre: Cotemporary Romance 18+
Contains: sex, profanity
Source: eARC for Honest review
The seventh and final tale in the dazzling, heartwarming, pulse-racing
Weekday Brides
series.
Gabriella Masini: She's a woman haunted by her past, with the scars to prove it. She believes that fairy tales are for other people. An elite matchmaker at Alliance, she's great at crunching numbers, but something doesn't add up with her latest prospective client: a billionaire bad boy with his own secrets. When Gabi refuses to be his temporary wife, Hunter forces her hand with an offer she can't refuse. But marriage to a man like that could never last…or could it?
Hunter Blackwell: Only his bank account is bigger than his ruthless ability to obtain anything he wants. These days, he has a secret reason to settle down, at least for a while—and he thinks the sensual and sassy Gabi will fit the bill perfectly. But when their marriage of convenience becomes downright dangerous, Hunter must decide how far to take his vow to honor and protect Gabi forever.
I was so excited to get Gabi's story. The way things went down for her in the last book was heart-breaking. But I knew there was so much more to her, and I'm so glad her story was saved for last, because it was great!
Hunter rubbed me the wrong way in the beginning. Yep, the guy was a douchebag. But I knew there had to be something better about him to eventually deserve Gabi, so I hung in there. And yay! Hunter became just what I'd hoped he would be.
Gabi has overcome so much in her past, so watching her overcome even more and become so great in this story made we want to hug her and congratulate her strength. There are some crazy circumstances to deal with, and between her personal issues and Hunter's new presence in her life, girlfriend had her hands full.
But through their marriage of convenience, we get to see this aquaintance founded on blackmail and bullying, become a relationship of depths neither were expecting, and yet could be the saving grace and healing love each was unknowingly looking for. I really enjoyed how their relationship transformed, even as doubts and insecurites lingered. And then how it all came about in the end. Loved it! Hunter won me over 100% by the end.
I loved Gabi and Hunter's romantic, yet suspenseful, journey. Gabi was strong. Hunter was determined. But together they were unbeatable (and super sexy). 'Treasured by Thursday' can be read as a standalone, though if you want more of Gabi's past, pick up the previous book '
Seduced by Sunday
' (which I loved).