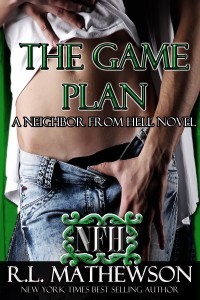 The Game Plan by RL Mathewson
(Neighbor From Hell #5)
December 27, 2014
294 pages
Genre: Contemporary Romance, Humor 18+
Contains: Explicit sex, profanity
Source: Personal purchase
Spend the next 40 years in prison or break her lease early?
Normally she'd be able to say that this one was a no-brainer, but things have definitely changed since she was forced to move in across the hall from Danny Bradford.
A lot of things……
She wanted to get through one day, just ONE day without Danny Bradford doing something to test the limits to her control, but with that damn smile of his and his habit of leaving her contemplating manslaughter, she didn't see that happening anytime soon.
He loved his family, but some days…….
It was too much, but that was okay, because his small neighbor living across the hallway provided him with endless hours of entertainment. Not on purpose of course, but did it really matter as long she made him smile?
In 'The Game Plan' we get to experience yet another Bradford driving his neighbor completely crazy. In this case, Danny has been pushing Jodi's buttons for two months, and if she could afford it, she would have moved yesterday. But a boatload of debt has her locked in her lease, and stuck with Danny. But in true Bradford tradition, odd albeit over-the-top circumstances somehow bring Danny and Jodi together. But is their attraction enough to overcome the dislike, and do they have enough hope and love between them to overcome the damage each has suffered from their pasts?
Danny drove me crazy in the beginning. But when Danny puts his mind to something, whether taunting a girl or wooing her, he gets the job done. As Danny and Jodi walked the frenemy line, I found myself really liking them together. Mathewson took some interesting direction with this story, and while I found some things repetitive, I found other things really creative, keeping me on my toes. Danny and Jodi were quite adorable, and I loved the changes in Danny. I loved the banter between them. We also get the normal Bradford food issues, but I absolutely loved the twist on how Jodi handles medication. That was a hoot!
I also liked that we got some nice depth and insight into Danny and his family, his relationship with his father in particular. Jodi also developed her character, and though the secret she was keeping drove me bonkers, I genuinely liked her and how things eventually came about. Danny and Jodi's lives kept the book interesting and more than just a funny romance. There were some greats twists toward the end, and I loved what Mathewson did with these characters. Great ending!
'The Game Plan' can be read as a standalone, though you do get to see some characters from the previous books. Though this wasn't my favorite of the series, I still really enjoyed it. I love the Bradfords and always look forward to more from them. This bunch is crazy!