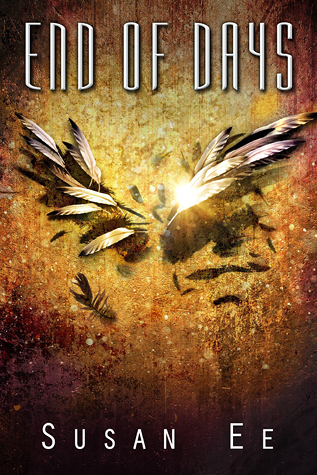 (Penryn & the End of Days #3)
May 12, 2015
344 pages
Genre: Young Adult Paranormal Sci-Fi
Contains: violence, graphic images
Source: Personal purchase
End of Days
is the explosive conclusion to Susan Ee's bestselling
Penryn & the End of Days
trilogy.
After a daring escape from the angels, Penryn and Raffe are on the run. They're both desperate to find a doctor who can reverse the twisted changes inflicted by the angels on Raffe and Penryn's sister. As they set off in search of answers, a startling revelation about Raffe's past unleashes dark forces that threaten them all.
When the angels release an apocalyptic nightmare onto humans, both sides are set on a path toward war. As unlikely alliances form and strategies shift, who will emerge victorious? Forced to pick sides in the fight for control of the earthly realm, Raffe and Penryn must choose: Their own kind, or each other?
I absolutely loved 'Angelfall' and 'World After' so I was heavily anticipating 'End of Days.' Because I love Raffe and Penryn and needed to know what their conclusion would be. And Penryn's sister. And, of course, the world. So much to look forward to!
I liked 'End of Days.' I really did. There was so much to cover in this book, considering the state of the world and the heavy amount of creepiness and destruction left from the previous books. And Susan Ee did a great job taking the story in directions I didn't see coming, creating interesting twists and unforseen turns. The mix of action and war, human interest and angel politics, was well-balanced, and combining that with the short chapters, made this an easy but exciting read.
Penryn and Raffe continued to shine in my eyes. I was so happy to see Raffe. But to be honest, I can always use more Raffe. Watching the interactions between Raffe and Penryn were really what I looked forward to. Yes, of course, I wanted the world to be saved. But I really wanted to know if Penryn and Raffe had a future. But until I knew that, I was loving any nugget I could get from the two of them.
Now, I only rated this 4 stars (which is still great!), compared to 5 stars for the previous two books, because I was able to put this book aside for a while. It was a great read, but not quite as exciting as the other two. I also wished there was a bit more in the end. The end was conclusive and satisfactory, so I can't complain about that. I just wanted a bit more to the epilogue.
I loved the 'Penryn and the End of Days' trilogy, its unique plot and compelling characters, and 'End of Days' is a great conclusion. I was so happy to get Raffe and Penryn's story. They captured my heart. Susan Ee wrote a fantastic series, and I definitely recommend it.
Penryn & the End of Days series: