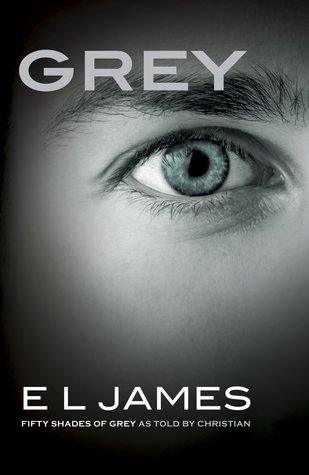 (Fifty Shades #4)
June 18, 2015
576 pages
Genre: Adult Erotic Romance 18+
Contains: Explicit sex, BDSM elements, profanity, abuse references
Source: Personal purchase
See the world of Fifty Shades of Grey anew through the eyes of Christian Grey.
In Christian's own words, and through his thoughts, reflections, and dreams, E L James offers a fresh perspective on the love story that has enthralled millions of readers around the world.
Christian Grey exercises control in all things; his world is neat, disciplined, and utterly empty—until the day that Anastasia Steele falls into his office, in a tangle of shapely limbs and tumbling brown hair. He tries to forget her, but instead is swept up in a storm of emotion he cannot comprehend and cannot resist. Unlike any woman he has known before, shy, unworldly Ana seems to see right through him—past the business prodigy and the penthouse lifestyle to Christian's cold, wounded heart.
Will being with Ana dispel the horrors of his childhood that haunt Christian every night? Or will his dark sexual desires, his compulsion to control, and the self-loathing that fills his soul drive this girl away and destroy the fragile hope she offers him?
This book is intended for mature audiences.
Truth be told, I didn't know what to expect from GREY. Books rewritten from another character's POV are very hit-or-miss. I can think of some I've loved and some I could have done without. Well, GREY was definitely a hit for me! I loved getting Christian's POV from the first FSOG book. I liked the original book, and was a fan of the storyline, but with GREY I loved it even more.
Here are a few specifics on why I loved this book:
1) The writing has improved from the original FSOG. I liked that I could see the author's growth as a writer. I thought it was more cleanly written without as much repetition of words or phrases. I found this particularly important, as it wasn't entirely new information (although there is still plenty of new stuff to enjoy), and yet I was still hooked on it.
2) GREY is exactly what it is advertised to be: "Fifty Shades of Grey as told by Christian." It says it right there on the book. But while I expected to relive the scenes between Ana and Christian, what I really loved was seeing his perspective, and how heavily his past affects his present. We got clues and insights in the previous trilogy, but this was so much more. I loved reliving this story and falling in love with Christian and Ana all over again.
3) I felt Christian's POV in GREY, upon reflection to my past reads of FSOG, matched his character well. I truly felt like I was getting to know him, and seeing his perspective was very eye-opening. On the outside he looked so in-control and put-together through Ana's eyes in FSOG. But through Christian's view and thoughts we see how lonely and lost and misguided he is, and why Ana is such a welcome breath of fresh air to him. If I didn't understand his attraction to her from the trilogy, I get it now.
4) There was no mention of Ana's "inner goddess." Now, I wasn't totally bothered by Ana's references to her inner goddess in FSOG, but it did get repetitive. Not here. Christian's POV was both mature and childlike. We see him as the successful man he is, as well as the lost, abused, traumatized child he has not recovered from. We also see Ana from a new perspective, giving us a fresh take on her as well.
5) The ending. Those familiar with FSOG (either the book or the movie), recall that it ended with a cliffhanger. Well, James must have been inspired, because while GREY still ends in a similar place as FSOG, it doesn't quite end in the same place. It ends in a place of hope, as opposed to heartbreak. And I love that she did that. I'm holding out hope that she will write the other two books from Christian's POV. But if she doesn't, at least she left us with this gift.
Now you may have noticed a wide range of love and hate out there for this book. There are many reasons for this, as reviews and reading experience are subjective. All I can say is, if you liked FSOG and want to read this, go for it! I'm so glad I did and avoided most of the negativity ahead of time, and truly had a great reading experience. If you didn't like FSOG, but attribute that to Ana's perspective, maybe give this a shot and see how it goes. If you didn't like FSOG because of the BDSM elements, this has the same stuff, so I doubt you're going to like it any better. If you hated FSOG and its storyline, again this is the same storyline. Now if you've never read FSOG before, but have been curious, you might want to give one a shot. I feel like it can be read as a standalone. And as I listed above, I feel like it was written better and I loved Christian's POV.
My final thoughts: I loved GREY and am so glad EL James wrote Christian's POV. I was addicted to Christian and Ana's story all over again, falling in love with their unconventional romance, and greedy getting more insight about Christian. I really hope she writes his POV from the other books (which have some of my favorite scenes), because I will snatch them up immediately.