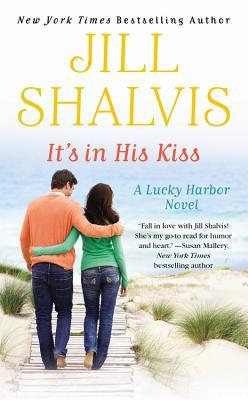 It's In His Kiss by Jill Shalvis
Genre: Contemporary Romance 18+
(Contains: detailed sex, mature language)
Source: eARC for Honest review
ONE KISS CAN LAST FOREVER
Becca Thorpe has uprooted her life and escaped to the beach. Now's her chance to get away from city living, throw caution to the ocean winds, and live in the moment. Especially if the moment includes the deliciously sexy surfer she meets shortly after arriving in Lucky Harbor. Something about the dark intensity of Sam's eyes and the thrill she gets at his touch convinces her to stay awhile.

Boatbuilder and investment genius Sam Brody is a self-made man who knows how dangerous it can be to mix business and pleasure. But he can't resist offering Becca a job just to hear her laugh and have her near. Yet when her brother comes to town asking for help, will he tempt her back to her glamorous life in the city? Or do Sam and little Lucky Harbor have a chance to win Becca's heart?
It's in His Kiss is a wonderful contemporary romance that I truly enjoyed. Though it is part of the Lucky Harbor series, it can easily be read as a standalone. Jill Shalvis has a great writing style that completely pulled me in, intriguing characters with well-paced development that kept me interested, and a storyline that hooked me from the start.
Becca and Sam really drew me in. I loved getting to know them, even though getting to the bottom of their issues was almost painful at times because they were just so stubborn. But that was also what made them so interesting. Their individuality and independence shone through, but how much greater they were together was truly compelling. Becca and Sam each had their own painful pasts that affected their present. And those pasts were not going to lay stagnant in the background - they got up in their faces - making this not just a beautiful love story, but also a story about forgiveness, redemption, and hope. Plus, Sam and Becca are a super hot and sexy couple, making the read extra awesome.
Add in Sam's best friends, Cole and Tanner, who are hunktastic (and have their own love stories to come). Throw in some mysterious Olivia, Becca's neighbor. A dash of family issues to make it interesting. A sprinkle of the adorable kids of Lucky Harbor. And spicy Lucille, the ancient glue holding the town together. And not only do they make the love story that much sweeter, but the overall story is just so much better and well-rounded. All of this makes Lucky Harbor and its resident love stories ones I want to keep reading.