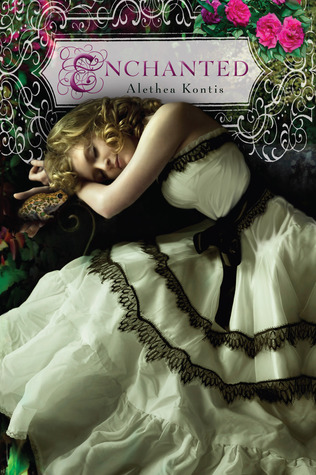 Enchanted by Alethea Kontis
Harcourt Children's Books
Genre: Young Adult Fantasy
Synopsis:
It isn't easy being the rather overlooked and unhappy youngest sibling to sisters named for the other six days of the week. Sunday's only comfort is writing stories, although what she writes has a terrible tendency to come true.





When Sunday meets an enchanted frog who asks about her stories, the two become friends. Soon that friendship deepens into something magical. One night Sunday kisses her frog goodbye and leaves, not realizing that her love has transformed him back into Rumbold, the crown prince of Arilland—and a man Sunday's family despises.





The prince returns to his castle, intent on making Sunday fall in love with him as the man he is, not the frog he was. But Sunday is not so easy to woo. How can she feel such a strange, strong attraction for this prince she barely knows? And what twisted secrets lie hidden in his past—and hers?
My Review:
Enchanted was a real treat to listen to on audiobook. The narrator, Katherine Kellgren, is fantastic. I'm sure Enchanted in also equally wonderful as a physical book, but I loved listening to the audio rendition.
Enchanted is great for those who enjoy a fairy tale retelling, but in this case it is numerous fairy tales being retold and combined into one fantastic story. The clever, creative storytelling gives us the beauty, the quirkiness, the humor, and some of the horror of these tales, but twists them up just right. These twists and combinations help to keep the reader anticipating what's to come since we don't know what Kontis had planned. I felt completely pulled into the tale and enjoyed that I didn't know what would happen next. There is the larger story of Sunday and Rumbolt, but several side stories that are interwoven and they all combine together quite well.
While there are numerous characters, the Woodcutter family being the most prominent, the stars of the story are Sunday and Rumbold. Their romance was very sweet and very adorable. Just the kind of romance a girl can get giddy about, dreaming of her own Prince Charming. The personalities of Sunday and Rumbolt are highly entertaining. While Sunday dreams and drifts about, she's also realistic because of her "magic" and the tragedies of her family's past. She's sweet and kind, but also strong and true to herself. Rumbolt has had a bit of a rough time recently, and due to some memory loss, we get to know him at the same time that he's getting to know himself. He's a bit of a mess due to his own magical misfortunes, but he also has a great tenacity and determination of character, and will do anything for Sunday and his kingdom. Sunday and Rumbolt are fantastic.
Overall, I found Enchanted to be a delightful fairy tale re-telling and re-imagining. The story combining, the imagination, the sweet romance, the intriguing characters, and the engaging tale, all made for a wonderful read. Or in my case, a wonderful listen.
Book Links: