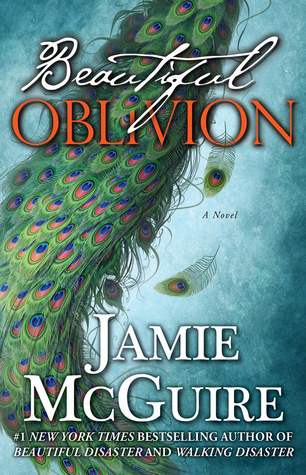 Beautiful Oblivion by Jamie McGuire
(Maddox Brothers #1)
July 1, 2014
Atria Books
336 pages
Genre: New Adult/ Contemporary Romance
(Contains: explicit sex, sexual reference, mature language)
Source: eARC from publisher for Honest review

Book Synopsis:
The Beautiful Disaster and Walking Disaster phenomenon continues in the first heart-pounding new adult romance in The Maddox Brothers series.

Fiercely independent Camille "Cami" Camlin gladly moved on from her childhood before it was over. She has held down a job since before she could drive, and moved into her own apartment after her freshman year of college. Now tending bar at The Red Door, Cami doesn't have time for much else besides work and classes, until a trip to see her boyfriend is cancelled, leaving her with a first weekend off in almost a year.

Trenton Maddox was the king of Eastern State University, dating co-eds before he even graduated high school. His friends wanted to be him, and women wanted to tame him, but after a tragic accident turned his world upside down, Trenton leaves campus to come to grips with the crushing guilt.

Eighteen months later, Trenton is living at home with his widower father, and works full-time at a local tattoo parlor to help with the bills. Just when he thinks his life is returning to normal, he notices Cami sitting alone at a table at The Red.

As the baby sister of four rowdy brothers, Cami believes she'll have no problem keeping her new friendship with Trenton Maddox strictly platonic. But when a Maddox boy falls in love, he loves forever—even if she is the only reason their already broken family could fall apart.

In the first installment of the Maddox Brothers books, readers can experience the rush of reading Beautiful Disaster for the first time, all over again
My Review:
Beautiful Oblivion is the first in a spin-off series from Beautiful Disaster, following the other Maddox brothers. Being a big BD fan, I was looking forward to what Jamie would do with the infamous Maddox siblings that we met in the previous series. While BO can certainly be read as a standalone, I will warn newcomers that by reading BO first, there will be numerous spoilers for BD, as the timeline to both stories runs concurrently.
Oh man, this one is hard for me to review. There are a lot of things I enjoyed about this book. It was really hard to put down, and Jamie McGuire is a solid writer. There are also some elements that left me wanting. I will not rehash the synopsis or drop a bunch of spoilers. You can find summaries on other reviews and hopefully no one is spoiling the surprises in here. What I will give you is a few of my feelings and thoughts.
Timeline: Essentially the same time period as BD. This plot-point left me with mixed feelings. For one thing, I enjoyed this aspect because it helped me keep pace with things. I loved seeing Travis pop in here and there and knowing where he was at in the his own story. But, this also worked against me because it took some of the spark of anticipation away from Trent's story. I was able to anticipate too many things and it left the reading flat and predictable in places where I'd hoped for the thrill of newness and surprise.
Trent: I loved him. He was a great character, a bit of a glutton for punishment, but sweet and endearing all the same. He has the familiar Maddox temper, though it's not as bad as Travis'. His interactions with Olive were adorable! His patience with Cami was commendable. Watching him develop his friendship with Cami was so sweet and patient and persistent, and I really enjoyed them together. Trenton is a great character all on his own, without the need to compare him to Travis.
Cami: I liked Cami, though I did not connect with her as much as I'd hoped. But she was a complex character and interesting to get to know. Even being in her POV I found her hard to get at times. Probably because she didn't completely get herself. But her independence, her work ethic, her honesty, her loyalty - all good qualities. Her family is a mess, with a drunk father, an abused mother, and a few brothers with their own issues, who just complicate her life more. Add in a lame boyfriend, and Cami is in desperate need of a Trent in her life.
Love triangle: This is not a spoiler since the publisher's synopsis already says Cami has a boyfriend. Unfortunately, I just didn't get Cami's relationship with her boyfriend. Like, not at all. To me Cami was a doormat and willing convenience to a man she hadn't been dating very long, not the independent woman she had been trying so hard to be. She mirrored her mother in many ways. Even though the boyfriend was referred to as nice and all, I never got a real sense about him and what he brought to their relationship, and what Cami loved so much about him. To me he was a selfish user. So when Trent comes along, I'm like, duh, this guy is way better all around. And I don't commend cheating. Like not even a little bit. But I fully support the breaking up of dating relationships when they clearly are not working. Isn't that what dating is for? And Trenton is so great! Even if I didn't always know what Trent saw in Cami.
Secondary storyline: I had a hard time with Cami's roommate Raegan and her love life in particular. She was a hot, emotional, sentimental, confused mess. And these boys. Well, one guy got all the good parts of the deal. And the other guy was totally whipped and I felt sorry for him. Then I wanted him to grow a pair and stop making excuses for her. Although her justification was explained, I still had a hard time connecting with her. The whole purpose for this being in the story made my head and my heart hurt.
Mystery: The mystery man plotline was really well-played. I didn't figure it out. Not even a little. So props to Ms. McGuire for writing a good mystery. Honestly, it was annoying after a while because I was like, who the heck is this guy? Is she ever going to tell us? But she'll let you know. Just hang in there. And don't let anyone spoil it for you!
Overall: Beautiful Oblivion was a very enjoyable read. I enjoyed getting to know Trent and Cami, watching their friendship grow, exploring what made them tick, what they were afraid of, what their hearts' desired, what risks they were willing to take, and where the depths of their hearts truly laid. Their relationship was hard fought for, and while predictable in some respects, very sweet all-around, with a zinger of a mystery still thrown in there to keep the excitement going until the very end. I think Beautiful Disaster fans will enjoy not only
getting to know Trent and Cami, whom we were already so curious about, but also enjoy the little tidbits about Travis and Abby scattered within. I look forward to reading about the rest of the Maddox brothers.
3 1/2 STARS
CLICK BELOW FOR THE SIGNED LIMITED EDITION HARDCOVER GIVEAWAY!