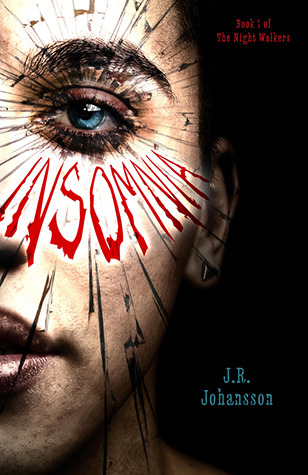 Insomnia by J.R. Johansson
(The Night Walkers #1)
June 8, 2013
Flux publishing
351 pages
Genre: Young Adult Paranormal
(Contains: nightmarish imagery, some violence)
Source: Personal purchase
Book Synopsis:
Her eyes saved his life.
Her dreams released his darkness.

After four years of sleeplessness, high school junior Parker Chipp can't take much more. Every night, instead of sleeping, he enters the dreams of the last person he's made eye contact with. If he doesn't sleep soon, Parker will die.

Then he meets Mia. Her dreams, calm and beautifully uncomplicated, allow him blissful rest that is utterly addictive. But what starts out as a chance meeting turns into an obsession; Parker's furious desire for what he needs pushes him to extremes he never thought he'd go. And when someone begins to terrorizing Mia with twisted death threats, Parker's memory blackouts leave him doubting his own innocence.
My Review:
My initial draw to this book was the book cover. I love it! My second draw was to the storyline: Parker is sleepless, trapped in the dreams and nightmares of others, and his sleeplessness is hitting the point of no return. And then he meets Mia, whose dreams allow him to rest. But this solution opens up a whole other world of problems, for both Parker and Mia. And now Parker must deal with a bunch of ugliness and craziness to get to the truth, and not scare away or hurt his friends in the process, or lose his mind completely.
Insomnia is a fascinating story, and the direction the author takes is very creative and engrossing. While it could be a bit of info-dumpy in the beginning, overall the pace and plot progressed well and kept me completely wrapped up in the story. I not only wanted to know what was going on with Parker, I needed to know. The twists and turns throughout were very well played and kept me guessing. At times I felt just as crazy and confused about reality as Parker.
I liked Parker. Even though at times he could be frustrating with his trying to take-care-of-things-on-his-own bit, he had such a great heart, especially when he really opened up. I could feel his struggle and was rooting for him. Finn, Parker's best friend, was awesome. He's the best friend anyone would be lucky to have. He's witty and loyal and wears great shirts. Addie, Finn's sister, was adorable and honest and just what those two guys need. This trio of friends had their ups and downs, and I loved how the beauty of friendship and loyalty was explored throughout the story. It was a lovely thing to behold.
There's a mildly romantic element that was not overpowering, but did add a special element to the overall story, and felt authentic. I won't reveal which characters are involved in the romance, but I really enjoyed it and look forward to seeing where things go in the next book.
While this isn't a perfect book, I really liked how the elements were combined to form such a fascinating story that had my attention from start to finish. I loved that I had questions popping up throughout, some were answered, more were added in the end. I immediately started the second book, Paranoia, upon finishing Insomnia. I look forward to the rest of this series.
4 STARS