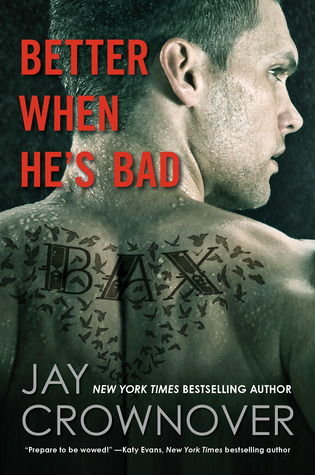 Better When He's Bad by Jay Crownover
June 17, 2014
William Morrow publishing
384 pages
Genre: New Adult Contemporary 18+
(Contains: explicit sex, mature language, violence)
Source: eARC from publisher for Honest review
Book Synopsis:
Welcome to the Point





There's a difference between a bad boy and a boy who's bad . . . meet Shane Baxter.





Sexy, dark, and dangerous, Bax isn't just from the wrong side of the tracks, he is the wrong side of the tracks. A criminal, a thug, and a brawler, he's the master of bad choices, until one such choice landed him in prison for five years. Now Bax is out and looking for answers, and he doesn't care what he has to do or who he has to hurt to get them. But there's a new player in the game, and she's much too innocent, much too soft…and standing directly in his way.





Dovie Pryce knows all about living a hard life and the tough choices that come with it. She's always tried to be good, tried to help others, and tried not to let the darkness pull her down. But the streets are fighting back, things have gone from bad to worse, and the only person who can help her is the scariest, sexiest, most complicated ex-con The Point has ever produced.





Bax terrifies her, but it doesn't take Dovie long to realize that some boys are just better when they're bad.
My Review:
I am a huge Jay Crownover fan. I love her Marked Men series. So when I found out she'd be trying her hand at another series, of course I wanted to read it. While the Marked Men are tattooed, pierced, wild, and rough around the edges at times, they are also good guys and sweet at heart. The Point Men, however, are not so sweet at heart, and are not only rough around the edges, they are rough all the way around, inside and out.
Now, this is a darker read than Jay's other series, but even knowing that going into this, and even with all that "bad boy" Bax laid out for us to see and the ugliness that was interspersed amongst the pages, I never felt like this was an overly dark read. Yes, it's gritty and there is an edge to it. Ugly things happen and outside of Dovie's hair there aren't a lot of bright spots. But it wasn't excessively done, and I could still feel the hopeful edge that Jay Crownover brings to her books.
Plot-wise, we dive right into the story when Bax gets out of jail after being imprisoned for 5 years. The circumstances of how and why he got arrested are a huge part of this story. I really enjoyed trying to figure out, alongside Bax, what the real deal was with the night he got arrested and everything surrounding it, especially when it came to his best friend Race. No spoilers here. But I've got to say that this was a great mystery for me. There were lots of surprises along the way and I honestly did not figure it all out until the answers were right there in my face. I'm normally much better at this, but several things stumped me. And I loved that!
Character-wise, Bax certainly takes some getting used to. As with anyone wanting to write about a "bad boy," I worry that they are going to cross some line that is a no-go for me. Bax crosses many lines, being a criminal and all, but I was still able to connect with him. And as the story progressed, I loved how Jay revealed more and more about him, not only to us, but to him as well, and really fleshed out his character. Dovie is a sweetie and a light. I worried the opposite about her, that she would be too good. And she was very good. But she had a lot of depth, she added so much to the story and to Bax, and she could hold her own. I couldn't help but love her. Character development is one thing Jay has always excelled at in her other books, and she did not disappoint here. Her characters were multi-faceted, layered, and engaging, whether major or minor in their role. I particularly enjoyed the storylines with Race and Titus and how family and friendship was used, even in its imperfections.
Romance-wise, I enjoyed how things developed between Bax and Dovie. Their initial meeting was edgy, their first interactions were untraditional, and there was no candy-coating their conversations. Though I didn't see the initial connection Dovie had to Bax, I did enjoy their progression, and then I felt it - the connection and what tied them together. They were good for each other. They were bad for each other. They were right and wrong. Ultimately, I liked what they brought out of each other. There was just something about them that was unique and special and complicated, and I bought right into them. Yep, I liked them together. I really did.
Overall, I really enjoyed Better When He's Bad. Perhaps it does not rank as high as the Marked Men books, but it still enhances my love for Jay Crownover's writing, her books, her characters, and her taking chances and exploring new territory with this series. I can't say that I will love all the "bad boys" in this series - they are criminals after all - but I'm certainly looking forward to what happens next. (And I really hope Titus gets a book!)