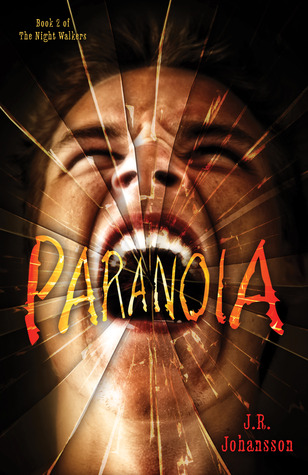 Paranoia by J.R. Johansson
(The Night Walkers #2)
June 8, 2014
Flux publishing
336 pages
Genre: Young Adult Paranormal
(Contains: nightmarish imagery, violence)
Source: eARC from publisher for Honest review
Book Synopsis:
In the aftermath of the events that nearly killed him, Parker Chipp is trying to learn to cope better with life as a Watcher. And it seems to be working...until he wakes up in jail with a hangover and 12 hours of missing time. Darkness has somehow taken control and Parker doesn't have a clue how to stop him. He finds an unlikely ally in Jack, the mysterious guy in the motorcycle jacket who offers to help Parker master his abilities as a Watcher. But even as they practice, the darkness inside Parker is getting more and more powerful, taking over Parker's body and doing everything he can to destroy Parker's life.

When Jack reveals that there is another kind of Night Walker, known as a Taker, Parker starts to wonder if the strange things happening in Oakville are more than just a coincidence. After all, people are more than just sleepwalking. They're emptying their savings accounts with no memory of doing so, wandering into strange parts of town and disappearing, they're even killing other people--all in their sleep. If Parker wants to find out what's happening or have any hope of seeing his father again, he'll have to defy Jack and put his own life in danger...because the more he learns about these other Night Walkers, the more certain he becomes that his life isn't the only one that could be lost.
My Review:
Paranoia is a great sequel, and I liked it even better than Insomnia (which I liked!). Here we jump right back into things a few months after where Insomnia ended. Parker is still dealing with his dream walking, Mia's dreams help him, but Parker is far from cured. Finn and Addie are still his besties, and in Addie's case, something a bit more but undefined. Darkness, however, is also still around, complicating Parker's life all over the place. And if that weren't enough, Jack returns to shed more light onto Parker's life than he would have ever imagined. And they all end up in unexpected danger, unclear if they will all make it out in one piece.
The plot, once again, was very creative and engaging. I had a difficult time putting this puppy down. Admittedly, there were a few repetitive parts in the beginning, but once I got past that, the pace really picked up, and I was hooked until the very end. Without giving too much away, I'll say that the story includes learning more about the Night Walker community, but with more knowledge, more problems come to the surface. Parker's dealing not only with his Watcher status and what that really means, but how it all plays out in the larger scheme of things. More light is shed on his condition, but more complications are enlightened as well. And that's only the beginning, because they are in danger! This made for a very exciting, edge-of-my-seat read.
In addition to the craziness of the Watcher community, we also get a load of friend and relationship issues. I thought the way each relationship was looked at was really well done. There was a great depth to their importance, how Parker treated each person, and how they all inter-related. I love that this series is more than just paranormal and more than just a romance. There is a beauty in the depths of the relationships. Plus, the characters are just so endearing, even with their flaws. I think that is why you can't help but root for Parker and his friends. They are real and make mistakes, but they are sincere, loyal, and genuine. I seriously love these guys!
I definitely recommend this series to anyone who likes an exciting, action-filled story with a
creepy paranormal twist, and great characters you can't help but love and root for. There's no cliffhanger at the end, so you'll be safe until the next installment. I can't wait to see what happens in the next book!
4-1/2 STARS
Book Links: