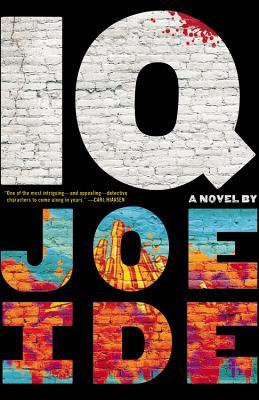 October 18, 2016
336 pages
Genre: Mystery
Contains: lots of strong language
A resident of one of LA's toughest neighborhoods uses his blistering intellect to solve the crimes the LAPD ignores.
East Long Beach. The LAPD is barely keeping up with the neighborhood's high crime rate. Murders go unsolved, lost children unrecovered. But someone from the neighborhood has taken it upon himself to help solve the cases the police can't or won't touch.
They call him IQ. He's a loner and a high school dropout, his unassuming nature disguising a relentless determination and a fierce intelligence. He charges his clients whatever they can afford, which might be a set of tires or a homemade casserole. To get by, he's forced to take on clients that can pay.
This time, it's a rap mogul whose life is in danger. As Isaiah investigates, he encounters a vengeful ex-wife, a crew of notorious cutthroats, a monstrous attack dog, and a hit man who even other hit men say is a lunatic. The deeper Isaiah digs, the more far reaching and dangerous the case becomes.
I really enjoyed diving into IQ. I'm not much of a detective/mystery reader, so it was great stepping outside my usual genre. But for me, I found this to be a fantastic standalone, and a promising start to what I'm hoping is a new mystery series.
IQ is a fresh, modern take on Sherlock Holmes. Isaiah Quintabe (IQ) is a young, African-American man living in Los Angeles. He's a brilliant man trying to help his community, but suffers from a heartbreaking past that completely changed his life. The story is told in flashbacks and present day, through which we learn how and why IQ became the man he is today. And yes, there's a fanstastic twist on "Watson" in this story, Dodson, who was relevant in the past and present. IQ and Dodson together were quite the entertaining match.
Two stories seem to be the center: how IQ directed his life after the events that changed his past, and the big case he is currently solving about the attempted murder of a rap mogul. Told in third person, we don't just get IQ's perspective, we get shifting perspectives from multiple characters (and quite the cast of characters it was!). I can see how this could annoy some people, with the jumping around. But I really appreciated the way this story was written. I felt like I was watching a TV show and enjoyed the changing of scenes. The way it all came together in the end, not only the mystery, but especially the personal lives of IQ and Dodson, was terrific.