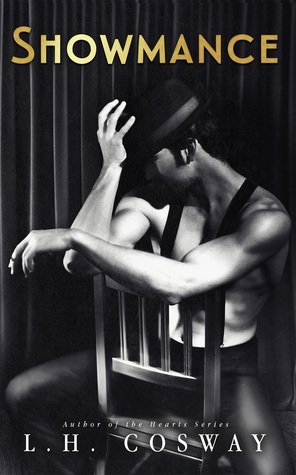 May 16, 2016
376 pages
Genre: Contemporary Romance 18+
Contains: strong language, explicit sex
Source: eARC for Honest review
Damon Atwood was Hollywood's golden boy. Having won an Oscar at the tender age of thirteen, he had the life many could only dream about. But his success came at a price, and after a short but fruitful film career, he chose to live a life of obscurity on a remote Scottish island. Almost a decade later he's finally ready to make his return, starting with a lead role in a musical on London's West End.
As a choreographer's assistant, Rose Taylor has always faded into the background. She watches shows come to life from the side lines, but has never craved the attention of stardom. When rumours begin circulating of Damon's involvement in her latest gig, she doesn't predict how she will be thrust into the limelight, nor how the mysterious and strangely introverted man will need her to teach him how to be a star again.
Rose knows that show crushes don't last. Actors fall for each other during the intensity of a production, often losing themselves in their roles. These kinds of affairs burn bright and then they fade. The question is, should Rose let herself shine with Damon, or guard her heart from being broken after the final curtain call?
So, mixed feelings about 'Showmance.' I loved Damon. Loved, loved, loved him! He's this endearing tortured soul you want to wrap your arms around and breathe comfort and love into. Which is what Rose did, and that's what made their story so sweet and special. Rose was a sweet, romantic soul, looking for love in all the wrong places, until she met Damon. They both came from such interesting (and heartbreaking) backgrounds, but put them together and you can't imagine them with anyone but each other. They really are the sweetest match and I loved them together.
So the love between the two main characters was lovely and beautiful. But the story itself was slow. Not slow-burn slow, just slow. Now, I love friend-building and relationships built on more than just lust. But in this story, there was a lack in the building department. Damon and Rose would have these wonderful sweet moments, but they would be too brief and infrequent to fill my need for friendship-building and relationship-building. If you're going to have the slow burn build-up, you need to have an accumulation of moments to back that up. Just when they were getting started on the road, they were interrupted. Then when they restarted, so much unnecessary drama was thrown in. I mean seriously, it was just silly. It felt like high school instead of grown adults who could stand up for themselves. The Alicia stuff was ridiculous. The Blake stuff I got, and then it got ridiculous too. I'm not a fan of forced drama, and that's what this was. Luckily, the drama got resolved.
Overall, I enjoyed 'Showmance' but didn't love it. Damon and Rose captured my heart, though I wanted more. If the slow parts had been edited down, I would have been a bigger fan. It's a great read for the main characters alone. Cosway has a fascinating way of creating characters.