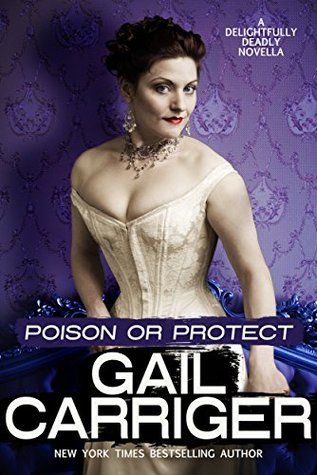 Poison or Protect by Gail Carriger
June 21, 2016
147 pages
Genre: Steampunk Fantasy Romance 18+
Contains: Super sexy times
Source: eARC for Honest review
Can one gentle Highland soldier woo Victorian London's most scandalous lady assassin, or will they both be destroyed in the attempt?
New York Times bestselling author Gail Carriger presents a stand-alone romance novella set in her popular steampunk universe full of manners, spies, and dainty sandwiches.
Lady Preshea Villentia, the Mourning Star, has four dead husbands and a nasty reputation. Fortunately, she looks fabulous in black. What society doesn't know is that all her husbands were marked for death by Preshea's employer. And Preshea has one final assignment.
It was supposed to be easy, a house party with minimal bloodshed. Preshea hadn't anticipated Captain Gavin Ruthven – massive, Scottish, quietly irresistible, and… working for the enemy. In a battle of wits, Preshea may risk her own heart – a terrifying prospect, as she never knew she had one.
Buy Poison or Protect today to find out whether it's heartbreak or haggis at this high tea.
Warning: Contains men pleasing women, and ladies who know what they want and ask for it, sometimes in detail. May also contain plaid, appearances from favorite characters, and the strategic application of leather gloves.
Having read three of the four Finishing School books (which I loved and look forward to finishing that series even more now), I got a kick out of seeing Preshea as an adult in this very adult novella. Lady Preshea Villentia is now the widow of four dead husbands, and has an understandably bad reputation. But her training and abilities bring her on assignment to a certain house party, with an assignment that seems straight-forward enough.
But the unexpected catch is a certain captivating Scotsman.
Captain Gavin Ruthven is a guest at the house party as well. But his intentions are unclear to Preshea. Is he working for the enemy? Is he trustworthy to someone who doesn't trust at all? But the one thing growing in clarity is the attraction between Gavin and Preshea.
From the start the banter and chemistry between Gavin and Preshea really appealed to me. I love that Gavin subtly chipped away her walls. I also loved that Gavin was very much a what-you-see-is-what-you-get kind of guy. He was the perfect match for Preshea. There was a sweetness about their budding relationship, even in the midst of assassination attempts and house party drama.
And then there's the sexiness. This is where this novella distinguishes itself from the young adult series. There were some great sexy times. But what I particularly liked was the depth of these encounters, as they were a great catalyst for learning so much more about these characters. I also loved that there was sweetness with the sexiness. Let's just say that Gavin is fantastic!
Overall, this standalone novella is a quick read, but packed with great characters, relationship depth, a bit of adventure, and a sweet and sexy romance. I loved Gavin and Preshea. I look forward to what comes next in this fun series.
Gail Carriger writes steampunk comedies of manners mixed with urban fantasy. Her books include the Parasol Protectorate and Custard Protocol series for adults, and the Finishing School series for young adults. She is published in 18 different languages and has 13 NYT bestsellers via 7 different lists (including #1 in Manga). She was once an archaeologist and is overly fond of shoes, octopuses, and tea.
www.gailcarriger.com