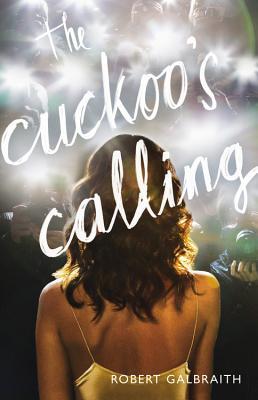 The Cuckoo's Calling by Robert Galbraith
(Cormoran Strike #1)
April 30, 2013
455 pages
Genre: Mystery
Contains: strong language
Source: Personal purchase
After losing his leg to a land mine in Afghanistan, Cormoran Strike is barely scraping by as a private investigator. Strike is down to one client, and creditors are calling. He has also just broken up with his longtime girlfriend and is living in his office.
Then John Bristow walks through his door with an amazing story: His sister, the legendary supermodel Lula Landry, known to her friends as the Cuckoo, famously fell to her death a few months earlier. The police ruled it a suicide, but John refuses to believe that. The case plunges Strike into the world of multimillionaire beauties, rock-star boyfriends, and desperate designers, and it introduces him to every variety of pleasure, enticement, seduction, and delusion known to man.
You may think you know detectives, but you've never met one quite like Strike. You may think you know about the wealthy and famous, but you've never seen them under an investigation like this. Introducing Cormoran Strike, this is the acclaimed first crime novel by J.K. Rowling, writing under the pseudonym Robert Galbraith.
I thoroughly enjoyed 'The Cuckoo's Calling.' I admit that Mystery is not my usual genre, so I cannot compare it to other books along similar lines. But what I can tell you is that I was completely into this story from the start. What I found especially appealing what the dual storylines.
First, we have the mystery, of course. Lula Landry's death was called a suicide, but Cormoran Strike has been hired to uncover the truth by her brother, who believes it was murder. From there we dive deep into Cormoran's detective work, uncovering layers of story surrounding Lula's last days, hours, and history. Some trails simply tell us more about Lula, some try to throw us off the scent, and some lead right to the truth. I loved the details of the detective work. I can see how some would think this a slow read, but I really got into all the nuances, twists, and turns. I admit that I was still trying to figure out the truth until it was spelled out to me. I love that I didn't figure it out!
Second, we have Cormoran himself, and his secretary. This side storyline was particularly interesting because of Cormoran himself. He's not your typical "hero" with dashing good looks and money. In fact, he's quite at the bottom of his luck. We meet him on a particularly bad day, which is also when his temporary secretary, Robin, meets him. I could not help but be endeared to Cormoran. In particular, Cormoran really drew me in not just for my sympathy for where life had led him, but also praise for his high intelligence and easy nature. Robin was the perfect foil for him. I loved how she came to life learning about detective work. Watching their working relationship begin and grow was engaging. I enjoyed this side of the story as much as I enjoyed the mystery itself.
I loved this story from start to finish, being completely engaged with it. I'm truly looking forward to the rest of this series and what will happen next in Cormoran's life and detective work.