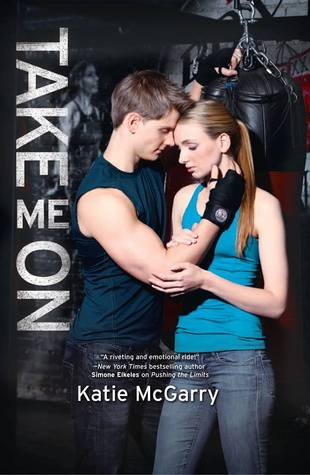 Take Me On by Katie McGarry
(Pushing the Limits #4)
May 27, 2014
Harlequin Teen
544 pages
Genre: Mature Young Adult
(Contains: mature language, sexual references, abuse)
Source: eARC from publisher for Honest review
Book Synopsis:
Acclaimed author Katie McGarry returns with the knockout new story of two high school seniors who are about to learn what winning really means.





Champion kickboxer Haley swore she'd never set foot in the ring again after one tragic night. But then the guy she can't stop thinking about accepts a mixed martial arts fight in her honor. Suddenly, Haley has to train West Young. All attitude, West is everything Haley promised herself she'd stay away from. Yet he won't last five seconds in the ring without her help.





West is keeping a big secret from Haley. About who he really is. But helping her-fighting for her-is a shot at redemption. Especially since it's his fault his family is falling apart. He can't change the past, but maybe he can change Haley's future.





Hayley and West have agreed to keep their relationship strictly in the ring. But as an unexpected bond forms between them and attraction mocks their best intentions, they'll face their darkest fears and discover love is worth fighting for.
My Review:
West Young is Rachel's brother from Crash Into You. While Take Me On can be read as a standalone, there are several references to what happens in Crash Into You, plus this takes place during the ending time period of CIY, so it may be helpful to read CIY first. Plus I loved CIY, so I recommend it anyway.
Our MCs, West and Haley, are not perfect characters, nor perfect people. They have made mistakes, hurt others, suffered loss, and have yet to find the tools to dig them out of the holes and traps they are in. Some of their struggles are from their own choices, some from other's choices, and some are just what we call "life." What goes down in this book, and the past situations these two have endured, are heartbreaking. But this story brings these two people who shouldn't even know each other together, and somehow they find reasons to change, grow, and renew their focus, purpose, and hope in life. I loved reading about both West and Haley. I genuinely liked them both, and rooted for them to make the right choices. Not only did I like them individually, but I loved the tender, determined, and endearing traits they brought out of each other.
Take Me On tackles numerous topics, numerous social and personal issues, and though I don't want to say what they are specifically because I don't want to give away spoilers, I will say that McGarry is able to seamlessly blend so many situations and struggles together, that anyone reading this book should be able to relate to at least one issue, if not more. All of McGarry's books have handled difficult topics, but I think Take Me One has touched on the most topics, and I really appreciate the respect and sensitivity she shows the characters and their situations through her writing. Which then makes the reader feel respected, which is always a good thing. The plot is also exciting, with just the right blend of emotion and action. I didn't want to put the book down, and wanted to fight alongside West and Haley until the end.
I realize that McGarry will write books outside of this series, but honestly, I would be perfectly content if she only wrote stories in this series. I will read them all. Every book is not only the story of its main characters, but we are exposed to incredible secondary characters, and I want to know all of their stories. Katie McGarry has such an amazing knack for bridging gaps between opposing ends of the spectrum and bringing unlikely characters together, to understand each other, to empathize and sympathize, to forgive, to care, to hope, to dream, to live. Take Me On once again hits the mark, and I loved it. I'm looking forward to whatever and whomever comes next.