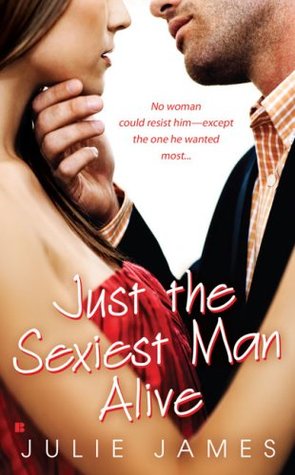 Just The Sexiest Man Alive
by Julie James
October 7, 2008
Berkley Sensation
296 pages
Genre: Contemporary Romance
(Contains: some sexual references)
Source: Personal purchase
Book Synopsis:
No woman could resist him—except the one he wanted most...





Cool, Calm, Collected...



Nothing fazes Taylor Donovan. In the courtroom she never lets the opposition see her sweat. In her personal life, she never lets any man rattle her—not even her cheating ex-fiancé. So when she's assigned to coach People's "Sexiest Man Alive" for his role in his next big legal thriller, she refuses to fall for the Hollywood heartthrob's charms. Even if he is the Jason Andrews.



Confident, Famous, Irresistible...





Jason Andrews is used to having women fall at his feet. When Taylor Donovan gives him the cold shoulder, he's thrown for a loop. She's unlike any other woman he's ever met: uninterested in the limelight, seemingly immune to his advances, and shockingly capable of saying no to him. She's the perfect challenge. And the more she rejects him, the more he begins to realize she may just be his perfect match.
My Review:
Taylor the attorney meets Jason the Hollywood hunk when he needs help preparing for his next role in a legal thriller. But Taylor didn't want this assignment and is not falling at this heartthrob's feet, despite Jason's charms. Taylor expects professionalism. Jason expects swooning. Both are disappointed right from the start. And what happens between these two is entirely entertaining.
This is just the fun, romantic read I was hoping it would be. I was completely entertained by Taylor and Jason's antics, banter, friendship, revelations, and so much more. The building of their relationship was really well-written and I appreciated the thought and care that went into it. Not only were they placed in interesting situations that led the story, but their characters were revealed and grew in exciting ways. There is obvious physical attraction and chemistry between the two, but for me the real strength was the ways their characters grew from each other. Both had personal obstacles to question and overcome, and I liked how they were "fixed." I especially loved their budding friendship and how it grew to more. These two really grew on me.
This is a cute, sweet, entertaining, romantic story, just right for an afternoon of light reading. It's not super steamy, so those looking for hot and heavy may be disappointed. But I really enjoyed the change of pace and how the author brought everything together. I could even visualize this as a Hollywood movie. This was my first Julie James novel, and I look forward to reading more of her books.