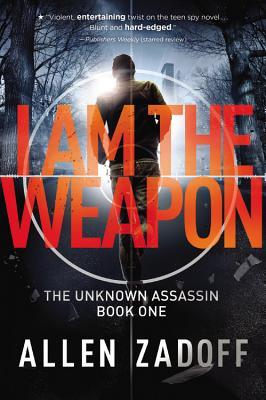 I Am The Weapon
by Allen Zadoff
(Original title: Boy Nobody)
The Unknown Assassin #1
June 11, 2013
Little Brown & Co
352 pages
Genre: Upper Young Adult Thriller
(Contains: mature language, sexual references)
Source: eARC for Honest review
& Personal hardcover purchase

Book Blurb:
Boy Nobody is the perennial new kid in school, the one few notice and nobody thinks much about. He shows up in a new high school, in a new town, under a new name, makes few friends and doesn't stay long. Just long enough for someone in his new friend's family to die -- of "natural causes." Mission accomplished, Boy Nobody disappears, and moves on to the next target.

When his own parents died of not-so-natural causes at the age of eleven, Boy Nobody found himself under the control of The Program, a shadowy government organization that uses brainwashed kids as counter-espionage operatives. But somewhere, deep inside Boy Nobody, is somebody: the boy he once was, the boy who wants normal things (like a real home, his parents back), a boy who wants out. And he just might want those things badly enough to sabotage The Program's next mission.
My Review:
Turning a kid into an assassin is wrong on so many levels, but the way Boy Nobody's story is written is quite fascinating. We're taken into his past and present and what got him to this point in his life; we see through his eyes and mind what his training has done to his psyche; we walk through the steps he takes and the thoughts he processes. All of this I found very engaging. There are great twists and turns throughout the novel. I felt like I was uncovering multiple mysteries, not just who Boy Nobody is, but who these people around him are, what The Program is, and what the deal is with his current assignment.
There was action from start to finish and never did I feel bored. The way the plot was directed and driven was quite fascinating and kept my attention throughout, even when I was questioning why the author made certain plot choices. Then, as those choices were made more clear, I nodded my head in understanding and acceptance. The ending has certain twists that I didn't see coming, and no matter the outcome, I really appreciated the unexpected direction. By the end, along with Boy Nobody, I have more understanding and more questions and I look forward to where his story is going to go in the next book. All in all, a great read!
4 STARS
Alternate Hardback Cover: