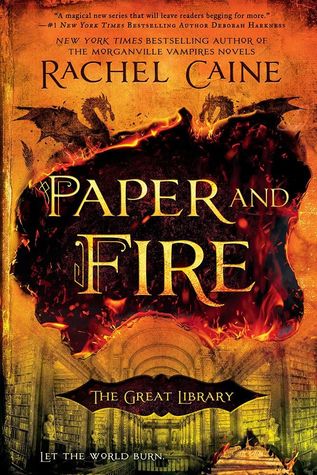 Paper and Fire by Rachel Caine
(The Great Library #2)
July 5, 2016
368 pages
Genre: YA Fantasy
In Ink and Bone, New York Times bestselling author Rachel Caine introduced a world where knowledge is power, and power corrupts absolutely. Now, she continues the story of those who dare to defy the Great Library—and rewrite history…
With an iron fist, The Great Library controls the knowledge of the world, ruthlessly stamping out all rebellion, forbidding the personal ownership of books in the name of the greater good.
Jess Brightwell has survived his introduction to the sinister, seductive world of the Library, but serving in its army is nothing like he envisioned. His life and the lives of those he cares for have been altered forever. His best friend is lost, and Morgan, the girl he loves, is locked away in the Iron Tower and doomed to a life apart.
Embarking on a mission to save one of their own, Jess and his band of allies make one wrong move and suddenly find themselves hunted by the Library's deadly automata and forced to flee Alexandria, all the way to London.
But Jess's home isn't safe anymore. The Welsh army is coming, London is burning, and soon, Jess must choose between his friends, his family, or the Library willing to sacrifice anything and anyone in the search for ultimate control…
Paper and Fire
, the second book in The Great Library series, picks up some months after
Ink and Bone
, and we are thrust right back into the fold with Jess. Jess, now a part of the library army, must balance his duties and training as a library servant with embarking on a deadly secret mission in direct opposition to the library.
I continue to enjoy Jess's voice as our main protagonist. He is a great combination of analytical and thoughtful with the right touch of compassion and loyalty. Continuing on this journey with him and his friends/former classmates kept me attentive and dedicated to the path they were taking. With the variety of personalities in this group, it felt like there was something for everyone, and each character had something unique and individual to bring to the table. The cast of characters is definitely a strength of this series.
As for action, even though the ultimate goal of this particular book was singular, getting there held much adventure. No path was straight-forward, no choice direct. Despite me taking longer to read this than usual, simply because life has been busy, the pacing and changes in action and suspense kept me engaged and intent on the outcome. I enjoyed the different twists and turns. Even the ending left me satisfied until the next book, but still eager to what would happen next.
Obviously I'm being vague because I don't want to give much away. That's part of the adventure. But overall I definitely enjoyed this sequel. The world-building continued to grow, and I love that we are being taken even deeper into this world. The characters are moving in interesting directions and continue to be a highlight for me. And the future of this story leaves me excited to see what's in store next.
The Great Library series: