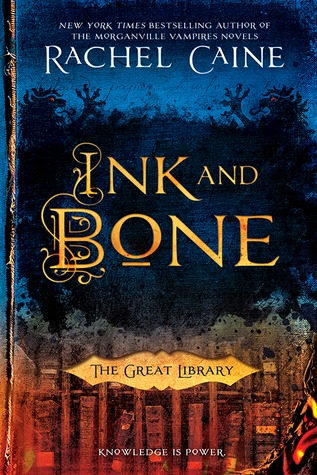 Ink and Bone by Rachel Caine
(The Great Library #1)
July 7, 2015
351 pages
Genre: YA Fantasy
Source: Personal purchase
Ruthless and supremely powerful, the Great Library is now a presence in every major city, governing the flow of knowledge to the masses. Alchemy allows the Library to deliver the content of the greatest works of history instantly—but the personal ownership of books is expressly forbidden.
Jess Brightwell believes in the value of the Library, but the majority of his knowledge comes from illegal books obtained by his family, who are involved in the thriving black market. Jess has been sent to be his family's spy, but his loyalties are tested in the final months of his training to enter the Library's service.
When his friend inadvertently commits heresy by creating a device that could change the world, Jess discovers that those who control the Great Library believe that knowledge is more valuable than any human life—and soon both heretics and books will burn…
This was a great book! It started a little confusing at first. Why don't these people just print their books? Especially as this is supposed to be 2025? But once I realized that this is as if the printing press had never happened. Or better yet, had never been allowed to happen. Had never been a real thing. And that the Great Library of Alexandria was a superpower in itself. Then I really got into the story. I wanted to know where the author was going with the storyline. And having recently read
Fahrenheit 451
, this reminded me of some of the power in that book, and I loved the new take on illegal books, but with a different twist. This has been described as a mix of
Fahrenheit 451
and
The Book Thief
and
Harry Potter
, and I would agree with that, and loved the combination.
Another important factor in enjoying this story was its captivating characters. I thoroughly liked our main protagonist, Jess. With his family history but determined personal nature, high intelligence yet thoughful consideration, he was a great guide in this journey. With the addition of his fellow students, with their varying personalities and abilities, I liked the camaraderie and the competition this brought. As the story progressed, I loved how they bonded. I especially loved getting to know Scholar Wolfe. He was this great enigma. Really, this cast of characters held my heart to the very end.
I also enjoyed the rising action of the story, and the ultimate climax. Though it started a bit slow and confusing, the world-building became increasingly fascinating. The situations the students found themselves in increased in intensity. And I found myself more and more hooked on this story and its eventual outcome. I liked that it kept me guessing. I felt a vested interest in these characters and the action drove me to the very end. Now I'm left with an intense curiosity to what will happen in the next book, and can't wait to continue this journey.