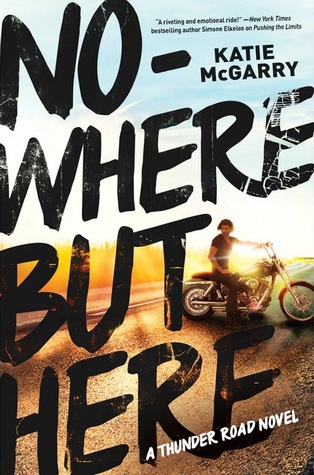 Nowhere But Here by Katie McGarry
(Thunder Road #1)
May 26, 2015
496 pages
Genre: Mature YA
Contains: Strong language, sexual references
Source: Personal purchase
An unforgettable new series from acclaimed author Katie McGarry about taking risks, opening your heart and ending up in a place you never imagined possible.
Seventeen-year-old Emily likes her life the way it is: doting parents, good friends, good school in a safe neighborhood. Sure, she's curious about her biological father—the one who chose life in a motorcycle club, the Reign of Terror, over being a parent—but that doesn't mean she wants to be a part of his world. But when a reluctant visit turns to an extended summer vacation among relatives she never knew she had, one thing becomes clear: nothing is what it seems. Not the club, not her secret-keeping father and not Oz, a guy with suck-me-in blue eyes who can help her understand them both.
Oz wants one thing: to join the Reign of Terror. They're the good guys. They protect people. They're…family. And while Emily—the gorgeous and sheltered daughter of the club's most respected member—is in town, he's gonna prove it to her. So when her father asks him to keep her safe from a rival club with a score to settle, Oz knows it's his shot at his dream. What he doesn't count on is that Emily just might turn that dream upside down.
No one wants them to be together. But sometimes the right person is the one you least expect, and the road you fear the most is the one that leads you home.
I'm so glad that I enjoyed 'Nowhere But Here' as much as I did. It's difficult to follow McGarry's 'Pushing the Limits' series, so I'm relieved that this book did not disappoint, and I have another series to continue.
The story takes place with a motorcycle club. This is not to be confused with a motorcycle gang. I'm glad McGarry clarified the difference, making this aspect of the story not only interesting, but refreshing. Emily, long lost daughter of Eli, has unexpectedly returned due to a confused email, and this has thrown the entire club into turmoil. What starts as a simple visit turns into the most eye-opening and life-changing experience of Emily's life.
It's the gradual uncovering of a lifetime of secrets that binds you to this story. Now, prolonged suspense can get annoying, especially when some people in on the secrets simply don't want to share. But in this case, I really enjoyed the slow release. There is so much Emily doesn't know about her past, her mom's past, her biological dad's past. In fact, her mom has hidden so much from her that Emily has taken her mother's fears upon herself, stopping her from living a full life. So while this wasn't the way she intended to spend her time, the impromptu vacation with her biological dad's family is just the thing she needed, despite the danger she seems to be in.
Now where Emily has prejudged the motorcycle club due to her mom's fears, Oz has prejudged Emily due to his limited information that he knows about her. These mixed feelings are actually a great start to their impending relationship. Because once Oz is basically put on babysitting duty, these two have to spend a lot of time together. I liked the blossoming relationship between Emily and Oz. While the attraction was pretty quick, the deeper getting to know each other, trust each other, protect each other, and open up to each other really drew me in. Oz did come across like a jerk at times, and Emily came across as a close-minded brat. But as the walls came down, their real selves came out. And that's where the magic happened. Gotta love a protective and loving Oz!
There were also lots of colorful, intriguing characters who added lots of spark to this story. Olivia was a truly fantastic grandma and made this novel. She was the heart of the story. Eli was this misunderstood guy and I loved getting to know him. Oz's friends were interesting and I hope they all get their own stories. It was also great to see Emily's adoptive father play such an important role.
This was a big read at almost 500 pages, but I never skimmed. Not once. I enjoyed every page. I enjoyed the slow build. I was able to get frustrated with the secrets and lies, but still able to trust the process of how everything would come out, and try to put everything together myself. I admit to being near tears a few times, and I even freaked out toward the end when McGarry threw me for a loop, leaving me biting my nails. This had it all. All-in-all, I truly enjoyed this story and look forward to the rest of the series.