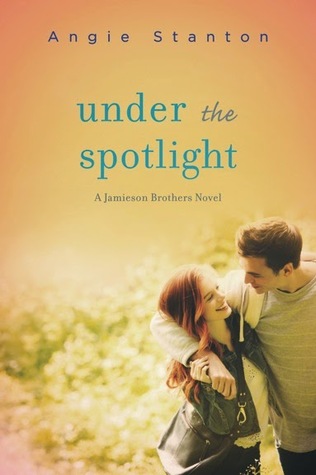 Under the Spotlight by Angie Stanton
(The Jamieson Collection #3)
May 5, 2015
Harper Teen
400 pages
Genre: YA Contemporary 16+
Contains: some mature language, sexual references
Source: eARC for Honest review
After an embarrassing stint on a reality-TV music competition years ago, Riley vowed never to sing again. Now she's behind the scenes, working at the prestigious Sound Sync recording studio, and life is looking up. But then Garrett Jamieson, the oldest brother in the famous Jamieson brothers band, crashes into her world. Garrett has hit rock bottom, and he is desperate to reinvent himself. After calling in a few favors, he ends up working at Sound Sync to learn the ropes of record producing from the industry's best. And he can't believe his luck when he discovers that Riley has been keeping a secret—she is an amazing singer. By producing her album, he's sure to top the record charts again. But Garrett is forced to use every trick in his arsenal to persuade the sassy girl to record. Riley refuses to sing—or even entertain the thought of it—and sparks fly as Garrett finally meets his match. But in the heat of the moment, one stolen kiss changes everything. Will Riley be the first person to finally rein Garrett in, or will Garrett succeed in getting Riley back under the spotlight?
I read the previous two books in this series, but almost three years ago. And I did not re-read them prior to this book. Having said that, I don't feel like you need to read the previous books to be completely engulfed in this one. There is very little reference to the previous books, except for the fact that the Jamieson band has broken up and Garrett's brothers have girlfriends. So if you get caught up in the Jamieson fever, you may want to check them out if you haven't already, otherwise this is a standalone. (Side note: Book 1,
Rock and a Hard Place
, is still my favorite of the 3.)
Garrett was a jerk in the beginning. But he was a jerk in the other books, so that was to be expected. He took a while to warm up to. Then just when I was liking him more, he'd do something stupid again. The boy did not learn quickly. He was stubborn, arrogant, narrow-minded, self-centered. He'd have moments of humanity and decency, but he was also his own worst enemy, messing his persona up again. I was rooting for him to grow up, but he didn't make it easy.
Riley was spunky and fiery, and had a bit of a chip on her shoulder. Now, her brutal singing past having an affect on her is understandable. And her mom. Don't even get me started on her. She's not winning Mom-of-the-Year any time soon. So I liked how independent and self-reliant Riley was trying to be, very goal-oriented and hard-working. But she's just as stubborn as Garrett. I wanted to tell her to just relax and be open-minded to learn. But she needed to learn the hard way. When it came to her mom, she definitely was getting some tough lessons. But with music her lessons and re-exploration came about in a different way, with a lot of interference (or encouragement) on Garrett's part.
I was really caught up in the story in the beginning. I liked getting in the studio with Riley, seeing the business through her eyes. I liked the hopefulness I felt that these two characters would grow and learn and light up the story. And they were entertaining and revealing. But by the middle it was starting to drag for me. The plot progression is a bit slow at times. The momentum is steady - not quite the slow lane on the freeway, but certainly not the fast lane. On a four-lane highway, I'm gonna say lane two.
The romance was very slow in coming. Which I didn't mind. It was good to see these two not hit it off in the beginning and not have insta-love. Turning the tide from dislike to like was a process. But once they finally turned that corner, I felt like the story was going to finally take a leap... and then it didn't. Honestly, Garrett and Riley were a bit exhausting, and realistically, I'm not even sure they are a good match for each other. But I was willing to give them a shot.
And while I liked the turnabout in the end with the characters and their maturation, I felt like the ending was rushed. I felt like I'd just invested 400 pages into their love story and in the end it was a bit anti-climactic and unfulfilling. Which is unfortunate, because the story started out really great for me, but slowly and surely progressed downhill.
Note: Garrett is 22 and Riley is 18, but I would label this more Young Adult speed than New Adult. This is nice for the reader looking for a story with this age range, but not wanting all the hot-and-heavy so prevalent in the New Adult genre.
The Jamieson Collection:
Book 1: Rock and a Hard Place