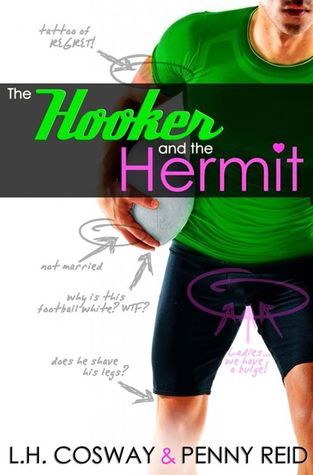 The Hooker and the Hermit
By L.H. Cosway and Penny Reid
Genre: Contemporary Romance 18+
Contains: explicit sex, strong language
Source: eARC for Honest review
New York's Finest
Blogging as *The Socialmedialite*
April 22
LADIES AND GENTS! I have an announcement!
You know that guy I featured on my blog a few months ago? The really, really hot Irish rugby player who plays the position of 'hooker' in the RLI (Rugby League International)? The one with the anger management issues, the body of a gladiator and the face of a movie star? The one with the questionable fashion choices leading me to ask whether he was the lovechild of a leprechaun and a hobbit? Ronan Fitzpatrick? Yeah, that guy.
Well, I have a confession to make…
THE HERMIT
Annie Catrel, social media expert extraordinaire at Davidson & Croft Media and clandestine celebrity blogger, can make anyone shine in the court of public opinion. She is the Socialmedialite, anonymous creator of New York's Finest and the internet's darling. Virtual reality is Annie's forte, but actual reality? Not so much.
THE HOOKER
Ronan Fitzpatrick, aka the best hooker the world of rugby has seen in decades, despises the media—social or otherwise. The press has spun a web of lies depicting him as rugby's wild and reckless bad boy. Suspended from his team, Ronan has come to Manhattan to escape the drama, lay low, fly under the radar. Only, Ronan isn't easy to overlook, and he can't escape the notice of the Socialmedialite…
THE PLAN
When Ronan is sent to Davidson & Croft Media to reshape his public image, he never expects to cross paths with shy but beautiful Annie, nor does he expect his fierce attraction to her. He couldn't be happier when her boss suggests pairing them together.
What lengths will Annie take to keep her virtual identity concealed? And what happens when the hooker discovers who the hermit really is?
The Hooker and the Hermit is a collaboration between authors L.H. Cosway and Penny Reid, is a full length 100k word novel, and is a standalone.
I was a big fan of Penny Reid and LH Cosway prior to reading 'The Hooker and the Hermit' and my feelings and respect remain completely so after reading this. Their ability to create characters with depth, unique traits, and inspiring passion continued into this collaboration and I was not disappointed. The storyline here grabbed me and didn't let me go until the very end. There was just something completely engaging about Annie and Ronan that captured me and kept me flipping the pages. And considering the fact that this is a collaboration, the blending and merging of Reid and Cosway's writing styles and personalities harmonized quite well and I enjoyed their synchronicity.
Just reading the first few chapters, you can see this is one of those opposites attract and don't make assumptions based on first impressions books, except a lot deeper than that. Annie and Ronan on the surface really are quite different, but on a deeper level, then are two people who have been hurt and betrayed by loved ones, and those experiences leave their mark on you and change how you interact with the world. Their past hurts and perceptions have also made them a bit judgmental and defensive, at least initially. I think in both Annie and Ronan's case they are quite relatable. Now I personally related more to Annie's introvert tendencies, except she has taken it to an extreme, but in the right format she is witty and engaging. Ronan is the quintessential beautiful boy with the hot body and charismatic personality, and a bit of bad boy mystique and driven edge to go along with it. But he is also super sweet and caring, with much more going on than meets the eye, and a genuine heart, and you can't help but fall into his spell. Both are vulnerable and in the need of healing and honest relationships where they can be themselves and feel safe. I loved their banter and their chemistry, and was rooting for them as they struggled along the ride, hoping they would realize how very good they were for each other.
One of my favorite writing devices was used here: the engaging of the written word. Whether is was a text, an email, a note, a tweet, or whatever, I loved the use here and those things completely engaged me. Add to that the wit and humor each author uses, the moments of awkward, the touching thoughts, the character chemistry steadily building up the heat and passion between the characters, and the moments of complete hotness. Take it a step higher with the use of social media and humorous 'celebrity' interactions. Then add in the fact that Cosway and Reid's styles blend so well here. With Reid writing for Annie and Cosway writing for Ronan, I could still feel the cohesiveness of the story as a whole.
Now I will say that this story was more predictable than anything I have read by these authors individually. The story arch was a bit more common and lacked the complexity and surprise factors that I have come to expect from these authors. But it is still highly engaging and quality work. It may not be my favorite read from these authors, but I still really enjoyed it and have already added the paperback to my shelf.
Overall, 'The Hooker and the Hermit' was an engaging, entertaining, and enjoyable read with two endearing characters that I was totally on-board with. It had all the elements I look for in a quality read, and showcased the fact that Reid and Cosway are wonderful authors, and that they can collaborate a distinct and captivating work. I would read anything else they would like to coordinate (and there are a couple characters here I hope we get more of in the future).