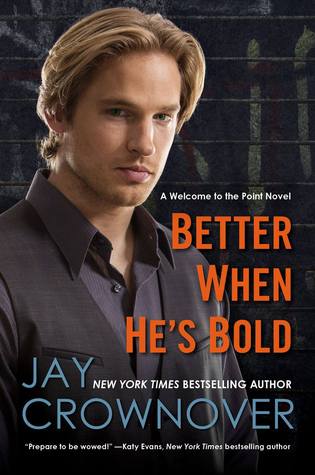 Better When He's Bold by Jay Crownover
(Welcome to the Point #2)
Genre: New Adult Romance & Thriller 18+
Contains: explicit sex, language, violence
Source: eARC for Honest review
Some men are just better when they're bold.

Welcome to the Point...

In a dark and broken kingdom, a ruler has to be fearless to control the streets and the ruthless people who run them.

Race Hartman is just bold enough, just smart enough, and just lost enough to wear the crown. Places like the Point will always have bad things and bad people, but the man in control of all that badness can minimize the devastation. Race has a plan, but can he prevent total annihilation without destroying himself?

Brysen Carter has always seen her best friend's brother for what he is--too pretty, too smooth, and way too dangerous to touch. Basking in Race's golden glow is very tempting, but Brysen knows she'd eventually get burned.

When she starts receiving threatening texts and someone tries to take her out in parking lot, the only person interested in keeping her safe is the one man she can't allow herself to have.

Sometimes being bold is the only way to stay alive. But can she let Race save her life . . . if it means losing herself to him?
Better When He's Bold is the second book in the Welcome to the Point series. Sure, you could get away with reading this as a standalone without reading Better When He's Bad first, but there are certain actions and plotlines that build from book one to book two. The beginning has enough summarizing from book one to satisfy a new reader, but if you want to get the full treatment on the building storyline of The Point, I'd consider reading book one first.
The storyline picks up not long after the events of book one. Race is the new "ruler" of The Point, but trying to do things his way. But new leadership does not come without its opponents. And running numbers does not happen without bloodshed. But even with the bad all around him, Race still manages to shine like the golden boy he is, scars and all.
Brysen is not without her own share of heartache and hassle. Managing a deteriorating family, trying to protect her sister, working, and still manage to graduate on time doesn't leave her with much free time. And no time for dating, much to the annoyance of the boys around her. But somehow Race, her best friend's brother, whom she's been trying to deny her attraction to, manages to get closer to her due to her frustrating circumstances.
In Better When He's Bad, we got Bax and Dovie's love story. What was so fun about them was how very different they were from each other, both physically and character-wise, and that those differences made them the perfect match. Here we get Race and Brysen's love story, but this time around they are more alike than different. But it is their similarities - whether be background, family, looks, intellect, sexuality - that help them ground each other from the craziness in their lives. Yet they have enough differences to balance each other out. I really liked them as individuals and as a couple. I could feel their chemistry coming off the pages and loved how they worked together. Theirs grew into a wonderful partnership. This wasn't a damsel in distress saved by her knight. This was two people with strengths and weaknesses and enough intelligence and love to know that they needed each other. A king with his queen, perhaps?
Beyond the love story, there is a whole lotta craziness going on in The Point. Not only is Race having to adjust to his new role in The Point, but there is now some mysterious someone messing with him and Nassir, including a death toll. Plus, Brysen has her own mysterious stalker making her life even worse than it already is. I'm not going to go into details on these two plot points, but I loved them. I loved the combination of romance and thriller, the mysteries I wanted to solve, and the excitement of how they blended together throughout the storyline. With all the dark action, there is also a quality to this story trying to walk the line between good and bad choices.
Oh, and of course we get to see Bax and Dovie. I love these two and loved their interactions throughout the novel. Add in other side characters like Titus (can't wait for his book), Nassir (he's so mysterious), newbie Booker (definitely want to see more of him), and Carsen (Brysen's sister), and this story was full of awesomeness. I took off a half star because there was a bit of repetitiveness that I noticed, but overall I loved this story, even better than the first one.
Welcome to the Point series!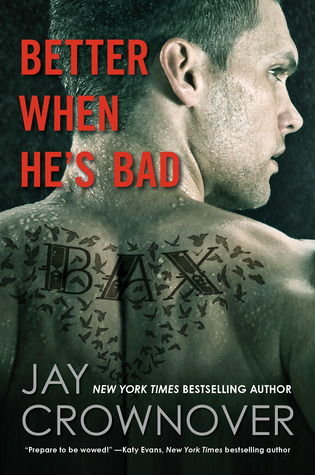 Better When He's Bad (#1)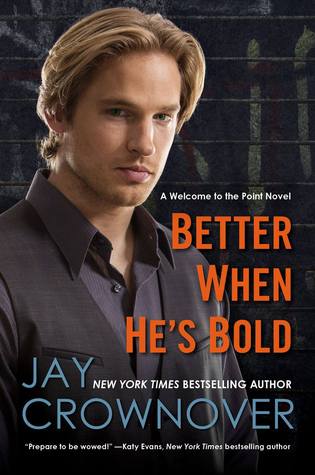 Better When He's Bold (#2)
Better When He's Brave (#3)
Expected publication date: June 30, 2015
a Rafflecopter giveaway