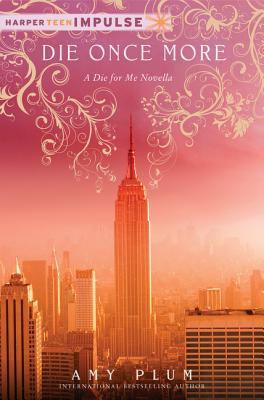 Die Once More by Amy Plum
(Revenants #3.5)
February 3, 2015
100 pages
Genre: Young Adult Paranormal
Source: Personal purchase
This one-hundred-page novella picks up where the international bestselling Die for Me trilogy ended and follows the eternally irresistible Jules Marchenoir as he leaves Paris behind for a fresh start in New York City.
Jules is a revenant—an undead being whose fate forces him to sacrifice himself over and over again to save human lives. He's spent the last century flirting his way through Paris and, most recently, falling in love with his best friend's girlfriend. Loyalty and heartbreak have led him to choose a new life in NYC.
Separated from his friends and his home, Jules is adrift in this dangerous new world, facing unknown enemies . . . until he meets a revenant named Ava. Though the battle for France has been won, an epic war between good and evil has just begun in the Big Apple, and Ava needs Jules's help to uncover the key to an American victory. Jules finds himself in the same position he crossed an ocean to escape: at risk of losing his immortal existence as well as his heart.
For people like me who loved the Revenants series and loved Vincent and Kate's ending, but didn't get the closure they wanted with Jules, this is the novella for you. Picking up right where the trilogy ended, Jules is a bit of a mess, happy for the victory in Paris, but heartbroken that his love for Kate will never be returned. So New York City is the place he chooses for a fresh start, or at least a place to hide his feelings and hide from his friends. We see his hurt and his emotions as he delves into this world of lost love that he has never experienced before.
Then his journey takes a turn he wasn't planning on, forcing him back to Paris, facing his past. But this is where things get good, because this unexpected detour allows him to deal with his old feelings, cherish his old friends, and find himself in the position to love again. I loved seeing Jules cope with his heart and open himself up to future possibilities. I loved seeing him go from moody Jules back to the charismatic guy he was. I also liked Ava and the different emotions, history, and hope she brought to the table. I liked that this wasn't an insta-love, because that would have just been silly considering where Jules (and Ava) were coming from. I really enjoyed Jules and Ava together and what they brought out of each other. Plus there is an exciting revenant plotline that pulls us back into the exciting world they live in.
Overall, I really enjoyed
Die Once More
. I felt like I got a happy ending for Jules, plus there were some happy times for other characters in the story as well (and I love happy characters in love). Would I have liked this to be longer? Of course. I would have loved even more to Jules and Ava's story, especially since it took a while to take off. But I'm still really happy I read this and would recommend this to fans of Jules or those who just want more Revenant world.
REVENANTS Series:
Die For Me #1