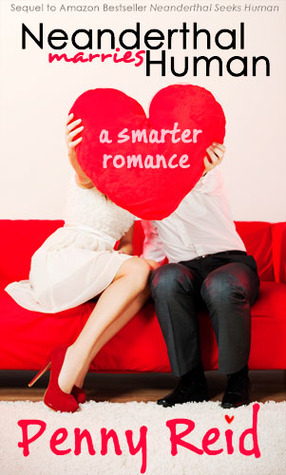 Neanderthal Marries Human by Penny Reid
(Knitting in the City #1.5)
June 24, 2014
416 pages
Genre: Contemporary Romantic Comedy 18+
(Contains: sex, mature language)
Source: eARC from publisher for Honest review

Book Synopsis:
There are three things you should know about Quinn Sullivan: 1) He is madly in love with Janie Morris, 2) He's not above playing dirty to get what (or who) he wants, and 3) He doesn't know how to knit.

After just five months of dating Janie, Quinn—former Wendell and unapologetic autocrat—is ready to propose marriage. In fact, he's more than ready. If it were up to Quinn, he would efficiently propose, marry, and beget Janie with child all in the same day—thereby avoiding the drama and angst that accompanies the four stages of pre-matrimony: engagement, meeting the parents, bachelor/bachelorette party, and overblown, superfluous wedding day traditions. But Janie, much to Quinn's dismay, tosses a wrench in his efficacious endeavors and challenges him to prove his devotion by going through the matrimonial motions, no matter how minute and mundane.

Will Quinn last until the wedding day? Or will he yield to his tyrant impulses?

Regardless, one thing is for certain, Quinn Sullivan will have to learn to expect the Spanish Inquisition (i.e. the unexpected) if he plans to have and keep Janie Morris as his wife.
Note: This book is not a standalone. It is the sequel to 'Neanderthal Seeks Human,' it is book #1.5 in the 'Knitting in the City' series, and it is a full length, 100k word novel. Again, you must read 'Neanderthal Seeks Human' first before reading this book.
My Review:
I wish I could give this 10 stars. Seriously. I finished Neanderthal Marries Human (NMH) with a happy, goofy grin on my face. I am completely in love with this book. The uncontainable love and the ooey-gooey feels in my heart overflow and runneth over for Penny Reid's amazing writing and characters.
If you are a fan of Janie and Quinn, then this is an absolute must-read for you. And you must read Neanderthal Seeks Human (NSH) first. Or in my case, re-read it, because you loved it so much the first time. Now, I am also glad that I read Friends Without Benefits (FWoB), book 2, beforehand, because the couple from that book make their own special appearance in NMH. FWoB is not a required read before diving into NMH, but I'm just letting you know that there is a bit more to the series that is tied into NMH.
While NSH is the story of how Janie and Quinn fall in love, and all the hijinks that they deal with along the way, I'd say NMH is truly the depth of their love story. We get the full force of their love for each other here. While their attraction and relational draw is obvious in NSH, here we get layer upon layer of what will make their relationship go the distance. I'd say the word that kept coming to mind while reading was the word "tender." There was this beautiful, breathtaking, enveloping tenderness between Janie and Quinn that exceeded anything they had beforehand. I could feel the love coming off of the pages. Plus we get the POV of both Janie and Quinn, and it made their story and the meaning behind their actions and their love that much richer for it.
Penny Reid was somehow able to nail every emotion and feeling and express exactly how I would imagine Janie and Quinn to handle embracing marriage. And this was not a straight-forward engagement to wedding ceremony book. Reid managed to throw several curveballs in there, twisting and turning things just as Janie's funny, brainy mind would think things, taking Quinn places he'd never dreamed, and making the story so much more than I could have imagined. I won't spoil what happens, but it's really brilliant how everything came together. I knew I would laugh, And laugh I did! I knew I would be impressed by Janie's sheer genius. And impressed I was! But I was not expecting the tears and the raw emotion. I was not expecting to be moved by so many touching, tender moments. I was not expecting such beautiful depths. And I loved every moment of it!
I cannot recommend this book enough! I am a huge Penny Reid fan, have loved all her books, but this one is now at the top of the list. It was funny and quirky, had hijinks and off-the-wall situations, brought all the girls (and guys) together in all their wacky glory, but also demonstrated the depths of love between these characters (major and minor), highlighted their tender moments without being cheesy, and embraced Quinn and Janie's unique relationship and why they are perfect for one another. I love the entire Knitting in the City series and cannot wait to read the rest of the stories about all the girls. And Quinn and Janie will always hold the spot as King and Queen of the crew.
Book Links:
Neanderthal Seeks Human (Book 1)

About Penny Reid:
SEX! It all started with sex, between my parents. Personally I don't like thinking about it, but whatever works for you is a-ok with me. No judgment. The sex happened in California and much of my life also occurred in that state until I moved from the land of nuts (almonds), wine, silicon… boobs, and heavy traffic to the southeast US. Like most writers I like to write, but let's get back to sex. Eventually I married and gave birth to 2 small people-children (boy-6, girl-4 as of this writing).
By day I'm a biomedical researcher with focus on rare diseases. By night I'm a knitter, sewer, lino block carver, fabric printer, soap maker, and general crafter. By the wee hours of the morning or when I'm intoxicated I love to listen to the voices in my head and let them tell me stories. I hope you enjoy their stories.