Teaser Tuesdays is a weekly bookish meme,
The Consequence of Revenge
by Rachel Van Dyken
Expected Publication date: June 9, 2015
**I loved

The Consequence of Loving Colton

. Hilarious!! So I was super excited to read Max's story, in The Consequence of Revenge. Max did not disappoint!**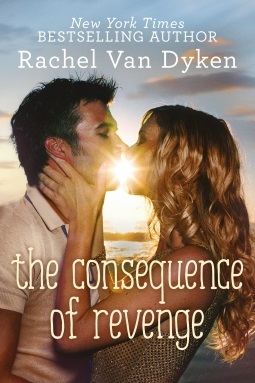 "But, you know, if I was to ask what his favorite food was-"
"Mexican. We're Canadian, but it doesn't stop him from believing he was adopted and his real father is in the Mexican drug cartel."
(*Quote comes from my eARC copy, therefore it and its location are not final.)
After losing his best friend to another guy, the notoriously too-confident Max Emory suddenly feels lost. He may have devastatingly good looks, an abundance of charm, and a claim to one of the biggest hotel empires around, but he has no ambition anymore. So when his fed-up friends decide they've had enough of his moping, they sign him up to be the next bachelor on the reality series Love Island. And between his pride and his forged signature on an ironclad contract, Max just can't say no.

Now he's stranded in paradise with twenty-four women, one terrifying goat, and Becca, the breathtaking barista who already turned him down back home. The closer Max gets to Becca, the more determined he becomes to win her over. As she gets to know him better, things start heating up. But is Becca really after Max's heart—or is she after the cash prize she could claim once the cameras stop rolling?