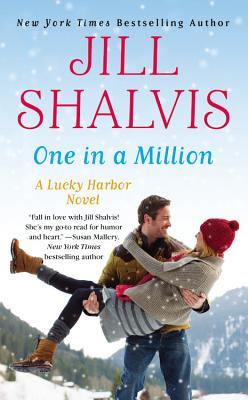 One in a Million by Jill Shalvis
(Lucky Harbor #12)
October 14, 2014
368 pages
Genre: Contemporary Romance 18+
Contains: strong language, sex
Source: Personal purchase
As the brains behind wedding site TyingTheKnot.com, Callie sees it all: from the ring to the dress, the smiles . . . to the tears. It's that last part that keeps her single and not looking. Getting left at the altar will do that to a girl. But when Callie returns to her old hometown, she finds that her sweet high school crush is sexier than ever. And he makes it hard to remember why she's sworn off love...
Tanner is a deep-sea diver with a wild, adrenaline-junkie past—and now his teenage son is back in his life. How can Tanner be a role model when he's still paying for his own mistakes? It's hard enough that gorgeous Callie has appeared in town like a beautiful dream, challenging his best-laid plans to keep his heart on lockdown. Though there's something about being around her again that makes him feel like he can be the man she—and his son—deserve. Little Lucky Harbor holds their past; can it hold a beautiful new future?
One in a Million
is the last of the Lucky Harbor series. It can be read as a standalone. But I must say that as an ending point, I loved this book as the end of this series. This was such a sweet but heartfelt story of two people, both burned by love and life before. Watching two people slowly let their guard down, then stubbornly put their walls back up, may be a common romance theme, but with Callie and Tanner, it felt honest and real. Meanwhile, everyone around them could see their love but them. But despite a bit of stubbornness, mixed with denial and a side of insecurity, they really got each other at a level no one else had reached before, and it was a joy to watch them fall in love. Now, the miscommunication between Tanner and Callie at one point bordered too much and frustration-worthy, but it all worked out just as it should have. I truly loved reading Tanner and Callie's story, wrapped up in their path and their romance.
Then add in the intermingling of Callie's grandma, Lucille, and Tanner's son, Troy, and this story took on a whole other level that I loved. I know not everyone likes when kids are mixed into a story, but watching Tanner learn to be the father of a teenager, and how Lucille was woven throughout, was beautifully (and humorously) done. Their stories were perfect side pieces that enhanced the overall story immensely and even made Tanner and Callie's love story that much more complete. And, of course, the conclusion to the story, and even the series, was wonderful. There's even a little surprise thrown in there, and I got quite the kick out of it. Overall, I loved this story, and loved these characters, both new and old. It's a great treat for any romantic.