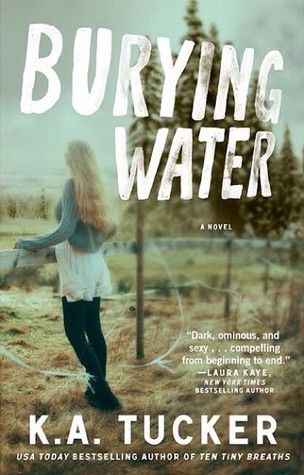 Burying Water by K.A. Tucker
October 7, 2014
368 pages
Genre: New Adult Romance 18+
Contains: Sex, profanity, violence and abuse
Source: eARC for Honest review
Left for dead in the fields of rural Oregon, a young woman defies all odds and survives—but she awakens with no idea who she is, or what happened to her. Refusing to answer to "Jane Doe" for another day, the woman renames herself "Water" for the tiny, hidden marking on her body—the only clue to her past. Taken in by old Ginny Fitzgerald, a crotchety but kind lady living on a nearby horse farm, Water slowly begins building a new life. But as she attempts to piece together the fleeting slivers of her memory, more questions emerge: Who is the next-door neighbor, quietly toiling under the hood of his Barracuda? Why won't Ginny let him step foot on her property? And why does Water feel she recognizes him?
Twenty-four-year-old Jesse Welles doesn't know how long it will be before Water gets her memory back. For her sake, Jesse hopes the answer is never. He knows that she'll stay so much safer—and happier—that way. And that's why, as hard as it is, he needs to keep his distance. Because getting too close could flood her with realities better left buried.
The trouble is, water always seems to find its way to the surface.
'Burying Water' was my first KA Tucker read, but it won't be my last. 'Burying Water' is the first book in a new series of standalones by her. She has a beautiful way of writing, and I can now see why I have heard so many good things about her 'Ten Tiny Breaths' series.
Now, I will say that 'Burying Water,' while a fascinating read, did carry with it the overall feeling of melancholy. I don't know what I was expecting, but I generally enjoy some lightness or humor thrown into a read. This wasn't the case here. You see, Water has amnesia after being brutalized and left for dead. But Jesse knows her past, yet circumstances at present do not allow him to reveal her past to her. So we journey alongside Water and Jesse, and some additional interesting characters, as we watch Water learn who she was, who she is, and who she can trust.
The interesting thing about this story is that we have a pretty good idea of how it is going to end from the beginning, so the story is really the journey getting there. It's a combination of past and present perspectives, eventually joining. The story is us getting to the specifics, but overall we know what the story is. I admit, while this was fascinating and well put together, it was also a bit anti-climactic. Though I will say the pace picked up quite a bit in the last 20% of the book, and became unputdownable.
I found the characters to be very interesting because the MCs, as well as a few other important characters, live in a bit of grey area. Walking on the wrong side of the line, but working to get things back to right. Maybe not right. More like right enough. Or more right than those around them. It took me some time to warm up to the MCs, probably because of the whole straddling right and wrong thing. But I liked how the author wove in the consequences and naivete of youth into the story, and how misguided youth, or people taking advantage or you or pre-judging you, can affect your choices. And those choices can have long-lasting consquences. It was an fascinating read with interesting perspective, and I found the characters quite intriguing, especially as the plotlines finally merged and I could get the full appreciation for what the author was doing.
Overall, this was a great reading experience. I look forward to more from this author. I'd definitely recommend this to anyone who likes this genre.