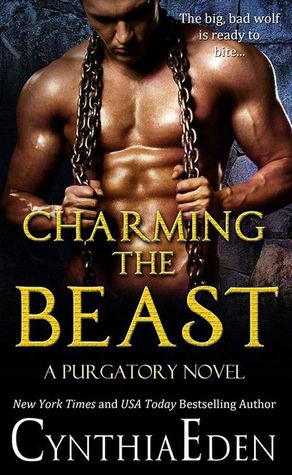 Charming the Beast by Cynthia Eden
Genre: Paranormal Romance
Contains: Explicit sex, strong language, violence
Source: eARC for Honest review
He's a man with a beast inside…Connor Marrok never intended to work for the Seattle Para Unit. He's not one of the good guys—he's a real monster, and the beast he carries doesn't exactly play nicely. But now he finds himself being blackmailed into a new assignment. It's supposed to be his last gig. His mission? Protect the beautiful Chloe Quick. Keep her alive. Destroy her enemies. Easy enough…until he starts to fall for Chloe.

She just wants to escape.

Chloe is tired of being a prisoner. She wants to get away from her Para Unit guard and run fast into the night. So what if Connor is the sexiest guy she's ever met? Chloe knows trouble when she sees it, and Connor is one big, dangerous package of trouble. But, when an obsessed werewolf begins stalking Chloe, she realizes that her paranormal bodyguard may just be the one man she needs the most.

Their attraction is primal.

Every moment that Chloe and Connor spend together increases their attraction. Chloe has never felt a need so strong or a desire so dark. The beast that Chloe carries inside has always been silent, but Connor is stirring up her animal instincts. And as the danger and desire begin to twist together, Chloe wonders just how far she'd be willing to go…in order to spend one more night in Connor's arms.
This is such a fantastic series. These books are true page-turners. I read the first two books (The Wolf Within and Marked by the Vampire) right before reading Charming the Beast. These books are exciting, the plots are griping, and the characters are very intriguing. I love getting to know these characters, following along with them in each book, and seeing the crazy situations they get into.
Chloe and Connor are known to us from the previous book. We start here with Chloe trying to escape from Connor's watchful eye as he has been put on guard duty by the Para Unit over Chloe, who just wants some freedom finally in her life. Unfortunately, Chloe cannot escape Connor, nor can she escape the abundant number of werewolves after her, and one mysterious and scary alpha. There is excitement coming off the pages from the very start, and as the plot thickens, the action does not let down. Once again we get some great twists and turns, right to the end.
Not only is the action addicting, but Chloe and Connor's relationship is sexy but also quite beautiful. They both have terrible pasts with their terrible fathers. But within the craziness of this situation, they've bonded in a lovely way. I loved watching their vulnerabilities come forward and their walls came down. I enjoyed their protectiveness of one another, even in the midst of their conflicting feelings over themselves personally and any hope they have for their future. And while they have a very hot and sexy chemistry, they also have a sweetness and tenderness that I adored.
I love the Purgatory series. These books just get better and better. Charming the Beast is my favorite so far. And I am so glad there is another book coming and it will be Pate's story. I cannot wait to see who puts him in his place!