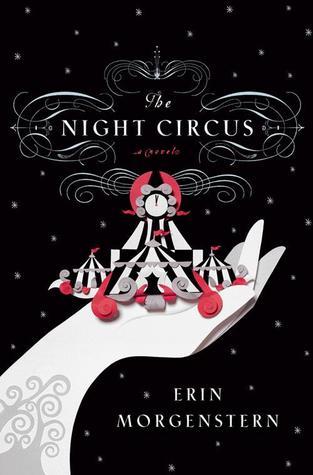 The Night Circus by Erin Morgenstern
Genre: Magical Fantasy, Romance
Content: Clean read, except for one swear word and one implied sex scene
Source: Personal purchase
The circus arrives without warning. No announcements precede it. It is simply there, when yesterday it was not. Within the black-and-white striped canvas tents is an utterly unique experience full of breathtaking amazements. It is called "Le Cirque des Reves," and it is only open at night.
But behind the scenes, a fierce competition is underway—a duel between two young magicians, Celia and Marco, who have been trained since childhood expressly for this purpose by their mercurial instructors. Unbeknownst to them, this is a game in which only one can be left standing, and the circus is but the stage for a remarkable battle of imagination and will. Despite themselves, however, Celia and Marco tumble headfirst into love—a deep, magical love that makes the lights flicker and the room grow warm whenever they so much as brush hands.
True love or not, the game must play out, and the fates of everyone involved, from the cast of extraordinary circus performers to the patrons, hang in the balance, suspended as precariously as the daring acrobats overhead.
For lack of a more creative expression, I found 'The Night Circus' to be magical and enchanting. It was unlike anything I've ever read before. I was really swept up into this world where the circus is the stage of magic, illusion, enchantment, and a competition beyond the competitors imaginations. The circus, along with Celia and Marco, play center stage to this beautiful tale. The way the circus, the tents, and the charcters were written made me feel like I was living right alongside the spectators and circus members, seeing what they saw, feeling what they felt. The story and the circus felt alive. The multiple characters and their perspectives provided the vision and the effect this circus had on everyone. I loved it!
I only have two side notes. One, is that while the synopsis describes this as a love story (and it is), this is not a heavy romance. It is subtle at times, profound at others, but gentle in its approach. I thought it was very beautifully done, and Marco and Celia were wonderful. But just don't expect hot and heavy. Two, is that this is not a fast-paced novel. It's really character-based, with a gradual storyline build-up. The journey is over numerous years, so a reader looking for constant full-tilt action may get bored. But I loved the building of this world with the integration of so many unique characters and the increasing plot, and once the intensity picked up, I found it unputdownable.
'The Night Circus' was a truly beautiful, magical, enchanting tale filled with the circus of my dreams, characters that came to life, and the perfect ending.