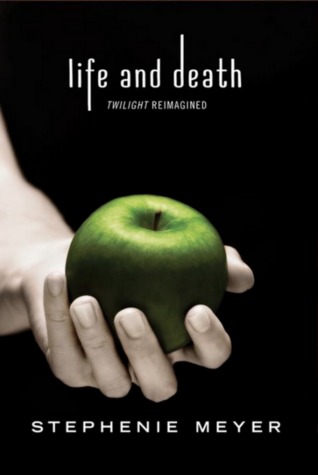 Life and Death by Stephenie Meyer
(Twilight Reimagined)
October 6, 2015
389 pages
Genre: YA Paranormal Romance
Source: Personal purchase
Celebrate the tenth anniversary of Twilight! This special double-feature book includes the classic novel, Twilight, and a bold and surprising reimagining, Life and Death, by Stephenie Meyer.
Packaged as an oversize, jacketed hardcover "flip book," this edition features nearly 400 pages of new content as well as exquisite new back cover art. Readers will relish experiencing the deeply romantic and extraordinarily suspenseful love story of Bella and Edward through fresh eyes.
I didn't even know this was a thing until I walked by it in the bookstore. And then I knew I had to have it. Now, it's been several years since I read 'Twilight', so in reality the movies were fresher in my mind than the books when I started reading 'Life and Death'. But I admit that I loved 'Twilight' when I read it. So 'Twillight Reimagined' with Bella and Edward's roles and genders swapped? Sounded cool to me!
I really enjoyed reliving 'Twilight' but with Beau and Edythe. I liked Beau and Edythe a lot. For some reason, this gender swap made the story feel less stalkerish. The two of them were just really adorable. But I also forgot how super insta-love this story is. And Beau and Edythe hit that insta-love wall hard. But I still really enjoyed the whole experience of this new version of the story. I also liked the mix of other characters. I thought it was creative and engaging.
But it isn't just the old story with a character swap. Meyer threw in some new twists and distinctions (which she explains at the beginning of the book), which added something subtle and special. She also gave us something new with the ending (that I won't spoil), which I loved. I really liked this new perspective and the direction she took, and admired the "what if" factor.
Is it for everyone? No. I think this is really a book for the fans, and specifically those fans who are interested in reliving 'Twilight' with a twist. Fortunately, I was one of those fans, and I'm very happy Meyer wrote this. Yay for Beau and Edythe!