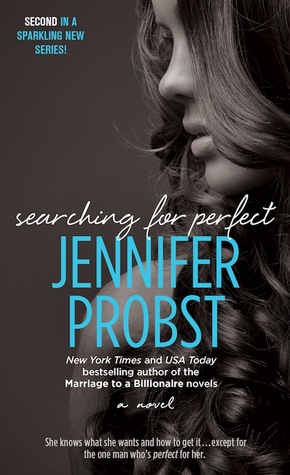 Searching for Perfect by Jennifer Probst
Genre: Adult Contemporary Romance 18+
Contains: explicit sex, language
Source: eARC for Honest review
The up-and-coming matchmaking agency Kinnections is the hottest thing to hit Verily, New York—just like Kennedy Ashe, social director for the service she owns with her two best girlfriends. A coach, consultant, and cheerleader rolled into one super-sizzling package, Kennedy creates dream dates, encourages singles to shine, and never refuses a challenge—not even Nate Ellison Raymond Dunkle, rocket scientist, nerd extraordinaire, and Kennedy's newest client.

Kennedy vows to work her magic and transform this hot mess in a lab coat with a disastrous relationship track record into the most wanted man on the Verily dating scene. If only she could turn the wand on herself . . .

Though she radiates confidence and sex appeal, Kennedy harbors deep-seated insecurities from a tormented past and lifelong struggle with weight issues. When she realizes she and Nate are cut from the same cloth and might be perfect together, can Kennedy learn to let her heart lead the way? Or will her fears sentence her to the sidelines as Nate finds love—with someone else?
Searching for Perfect is my newest book hangover. I absolutely loved it. While this is the second in a series, and this series is a spin-off of another series, it is easily read as a standalone. But after this you may want to go back and catch up on some of those previous books.
This book had me hooked from chapter one. I just love a nerdy guy, and Nate was perfect from the start. Using a bit of a My Fair Lady twist, Nate was the perfect Eliza Doolittle to Kennedy, the seemingly perfect (on the outside) professional matchmaker. Kennedy's plan is to transform Nate and coach him into someone who doesn't scare women off with the first words out of his very direct mouth, clean him up, and find his perfect wife. But who said plans always go as planned?
The chemistry and connection between Nate and Kennedy was amazing. I loved their banter and the way they were so comfortable with each other. I loved that they could see beyond the surface of each other's stereotypes. Each had a difficult past that still affects them, but in one another they have found a kindred connection. And with that bond, I love that they were able to start as friends (actually, Nate was just a client), which slowed down their "fall" for each other and allowed them to see each other's true self. Did I mention I loved this book?
I absolutely loved Nate! He's funny, he's smart, he's honest and direct, he's socially awkward, he's attentive. He also makes scientific analysis and research super sexy. Like, super sexy! Even when he was getting his heart broken, Nate was a stand-up guy. Kennedy had her own issues, and after a while you will probably want to shake her, but if you've ever been even remotely insecure, taken advantage of, or found lacking in the eyes of others, you will be able to relate to her, and her story has far more layers than that. But put these two together, and they are perfect for each other.
What more can I say? I loved Searching for Perfect! It was a beautiful balance of humor, tenderness, friendship, drama, sexiness, and love. I already want to read it again. I'm looking forward to more from this series. Can you say, Wolfe?