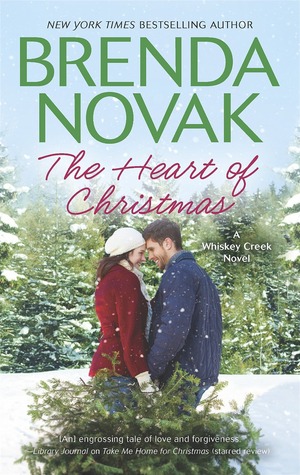 The Heart of Christmas by Brenda Novak
Genre: Contemporary Romance
Contains: sex, some language
Source: eARC for Honest review
Eve Harmon has always enjoyed Christmas, but this year it reminds her of everything she doesn't have. Almost all her friends are married now, and that's what Eve wants, too. Love. A husband and kids of her own. But the B and B she manages, and even Whiskey Creek, the small Gold Country town where she was born and raised, suddenly seem…confining.
Eve's worried that her future will simply be a reflection of her past. There's no one in the area she could even imagine as a husband—until a handsome stranger comes to town. Eve's definitely attracted to him, and he seems to have the same reaction to her. But his darkly mysterious past could ruin Eve's happily ever after—just when it finally seems within reach. And just when she's counting on the best Christmas of her life!
I hadn't read any of the books in this series prior to this novel, but I love Christmas books, so I jumped on the chance to read this one, and hoped to find a new series to get into. Though this is part of a series, I think this can be read as a standalone (as I did), and if you like the other characters that come into play from previous books (which they do), then you can easily go back and catch up on their stories.
The main story of Eve and Rex was quite engaging. I enjoyed the chemistry between them, the way they got to know each other, the trust the gave despite the overwhelming mystery surrounding Rex. There was something very sweet and endearing about them, and I couldn't help but root for them and their relationship. Eve was a real sweetheart, and Rex was such a softy under that mysterious exterior. I really liked getting to know them, past, present, and hopeful future. If I could rate their story alone, I would give them 4.5 to 5 stars. But...
While I really liked the two main characters of this story, Eve and Rex, the subplots negated some of my good feelings for the overall book and made it weird, distracting, and overly lengthy. Chey, a character from a previous book(s), was deceitful and unlikable. I did not appreciate her lying storyline. Ted's storylines were also an issue. His history with Eve and current pushiness made him a real jerk in my eyes. Then add in the Little Mary research and it was a bit weird. All these extra subplots and tie-ins made the story much longer than it needed to be, which was unfortunate. Instead of all these other people and their issues, I wished the epilogue would have been longer as I felt like so much was building up to the point in the epilogue, and then it just ended.