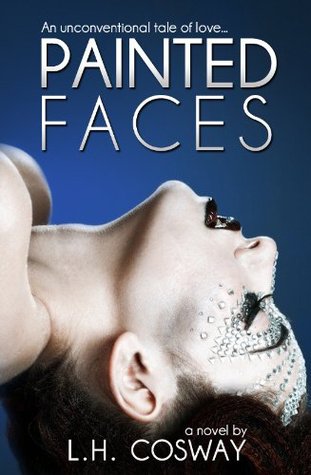 Painted Faces by L.H. Cosway
Genre: Contemporary Romance 18+
Contains: Explicit sex, sexual references, strong language
Source: Personal purchase
Come forth with an open mind, for an unconventional tale of love..

Dublin native Freda Wilson considers herself to be an acquired taste. She has a habit of making offensive jokes and speaking her mind too often. She doesn't have the best track record with first impressions, which is why she gets a surprise when her new neighbour Nicholas takes a shine to her.

Nicholas is darkly handsome, funny and magnetic, and Freda feels like her black and white existence is plunged into a rainbow of colour when she's around him. When he walks into a room he lights it up, with his quick wit and charisma. He is a travelling cabaret performer, but Freda doesn't know exactly what that entails until the curtains pull back on his opening night.

She is gob-smacked and entirely intrigued to see him take to the stage in drag. Later on, Nicholas asks her if she would like to become his show assistant. Excited by the idea, she jumps at the chance. Soon she finds herself immersed in a world of wigs, make-up and high heels, surrounded by pretty men and the temptation of falling for her incredibly beautiful employer.

In this story of passion and sexual discovery, Nicholas and Freda will contend with jealousy, emotional highs and lows, and the kind of love that only comes around once in a lifetime.

**Not suitable for younger readers. Contains some strong language and scenes of a sexual nature.**
What an amazingly unique book, yet still such a tender heartfelt love story. These characters blew me away and I fell completely in love with Nicholas and Freda (aka, Viv and Fred). It's an unconventional love story, but that's a bit of the beauty of it as well. I wasn't sure what I'd think of this book from the blurb, but I truly fell in love with it. I couldn't put it down.
I loved Nicholas. Though Nicholas, as Viv, is a drag queen, I never questioned his sexuality. He is all man. Manly man. He is also quite the unapologetic character and completely endearing. From the prologue you get a sense of him (and his heartbreaking story), but as the story continues to evolve, all of Nicholas's life is revealed, the good, the bad, and the very ugly. My heart broke for him, but it helped me to understand some of the choices he made, and mistakes along the way, and yearn for him to heal. The most touching of all is watching this blossoming friendship/relationship with Freda.
I loved Freda. She is shy, sarcastic, and has a genuine strength about her. She was so relatable. She and Nicholas can banter like no one's business, but she also has walls she's reluctant to let down. So instead of a quickie, this beautiful friendship is formed and breathed into life, despite the obvious chemistry they have to go for more. I loved the two of them together. Even the way they handled their mishaps and misunderstandings were honest and genuine.
I loved their connection. The way they saw each other was lovely - Viv with his occupation and Fred with her full figured self - because they appreciated and loved the other for who they truly were and weren't trying to change the other person. Freda saw Nicholas as a man despite the women's clothing, and Nicholas saw Freda as a sexy, beautiful woman despite society's judgment that she's 'fat' and unappealing. And then when all those walls were finally down - it's no wonder I have fallen in love with Nicholas and Freda.
I loved the writing. Cosway has a way with words that carries you along in this story in the most natural of ways. It was so well paced and I couldn't help myself from flying through the pages. I was glued. Her characters come alive, colorful as they are, but they also have such amazing depths that I loved getting to know. To go from funny banter to intense sexual chemistry to tender emotions, sometimes within the same scene, was a feat within itself and so well done. I was completely twisted up in Fred and Viv's story and loved them. This was my first Cosway book, but it won't be my last.
**FREE ON AMAZON 10/22-10/26**