Last Light by M. Pierce
Book 2: Night Owl trilogy
Genre: Contemporary Erotic Romance 18+
(Contains: graphic sex and strong language)
Source: eARC for Honest review
Tensions rise, secrets grow bigger, and passions run deeper—and hotter—in Last Light, the second novel of the Night Owl Trilogy from bestselling author M. Pierce.
Matt Sky is missing. After a solo ascent of Longs Peak that left only a large blood stain, tatters of climbing clothing, and the tracks of an animal in the snow, he is presumed dead.

Hannah Catalano is guarding a secret: she knows Matt is alive. After Matt's memorial service, she lingers on the East Coast with his family, but it soon becomes clear that his brothers' motives are less than gracious. Nate Sky is bent on tracking down the author of Night Owl, a book that charts the last days of Matt's life with uncanny and scandalous accuracy, and which appeared only after his death. Seth Sky is bent on getting Hannah into his bed.

Hidden away in the woods, Matt and Hannah strive desperately to maintain their ruse and their relationship—but their web of lies only tightens as Matt struggles with the consequences of his decision, and Hannah tries to escape Nate's libel suit and fend off Seth's advances...until Hannah is put in danger, and Matt must make a life or death choice.
What a crazy ride, once again! Regardless of whether you agree or disagree with the craziness of Matt and Hannah's relationship or their choices, Last Light is written in prime form. Pierce is a gifted writer who not only draws his readers into an exciting and well-plotted book with beautiful imagery and depth, but also writes characters who are intriguing - even addicting - and who bring all your feelings to the surface, from frustration to sympathy and everything in between. This is a fully engaging, multi-dimensional reading experience.
We pick up where Night Owl left off, more or less, with Matt's anonymity extinguished and him making bold and questionable choices for his future. As the choices Matt has made - living as a dead man - and Hannah's choice to support him unfold and play out, I felt like I was on the edge of my seat. I felt all the emotions Matt and Hannah felt, I worried over all the holes in their plans, I cringed at some of the things they did separately, I shook my head at their lies, I warmed to their intimacy, and I questioned their future. Seriously, this book had it all and I was completely hooked until the very last page.
As many emotions as I had for Matt and Hannah - both good and bad - one thing I love about them is their imperfections. These are not perfect people, Matt especially. They have issues far and wide, Matt especially. Matt really is a piece of work. But there is this quality to his characterization, perhaps the blend of man and child in him, that is also endearing, even when you want to punch him in the junk and make Hannah run away. Hannah is engaging in her own way in that you want to see her as the "normal" person in an entirely unique situation. Their relationship is truly fascinating. And I like that as these books progress, Hannah's inner strength and maturity also progress. I can't wait to see what these two do next.
But there are still questions. Of course, what is going to happen next with Matt and Hannah is the million dollar question. Additionally, I'm so very, very curious about Seth Sky. I did not see him as a bad guy. Was I supposed to? I don't know. I really want to know more about him, and whatever beef he and Matt have from the past. I'm really hoping we get more of him in the next book as well. Looking forward to the final book and all the unpredictability I have come to expect!
*Note: There is a reason the Night Owl Trilogy is labeled as erotica. It full embraces that title. Be forewarned if you choose to read it.
Book 1 in the Night Owl Trilogy: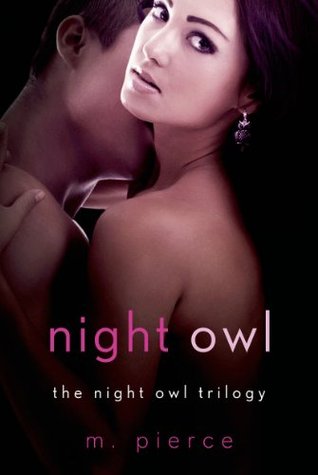 Contemporary Erotic Romance 18+
"Tautly written, complex, and vibrating with a dark sensuality that will have you at once blushing and anxious. You'll think you have this book pegged . . . but you'll be wrong."—Christina Lauren, New York Times, USA Today, and international bestselling authors of The Beautiful Bastard series
From bestselling ebook author M. Pierce comes the first novel in a provocative erotic trilogy where an anonymous online writing partnership turns into an uncontrollable, passionate obsession
At twenty-eight, Matt Sky has the perfect life. He has a beautiful girlfriend, a massive inheritance, and four national bestsellers -- all penned under his airtight alias, M. Pierce.
At twenty-seven, Hannah Catalano is a train wreck. Her boyfriend is a deadbeat and her job is abysmal.
Matt and Hannah meet online as writing partners. Their relationship is safe, anonymous, and innocent...
Until Matt sees a picture of Hannah. Hannah's picture sparks an attraction Matt is powerless to ignore. When circumstance brings Matt and Hannah together, the strangers begin a love story that's passionate, poignant, unforgettable, and unstoppable.