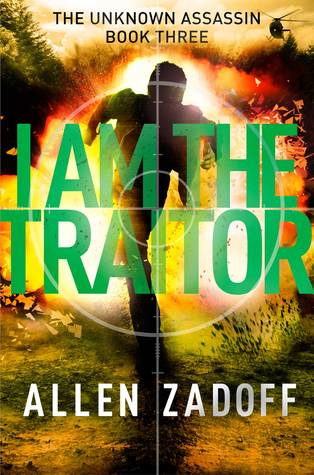 I Am the Traitor by Allen Zadoff
(The Unknown Assassin #3)
June 9, 2015
352 pages
Genre: Mature Young Adult Thriller 16+
Contains: Violence, brief sexual reference
Source: eARC for Honest review
In the third and final installment in the Unknown Assassin trilogy, Boy Nobody is on the run from The Program and uncovers a secret about his past that forces him to decide where his loyalties lie.
The Program has sent Boy Nobody on countless missions, instructed to kill whichever target he was given. But now, after going rogue, he is on his own mission to rescue his friend Howard who was captured by The Program. Boy Nobody manages to free Howard as well as Tanya, a mysterious girl who was being held with him. Howard and Tanya help Boy Nobody collect information about his father, eventually revealing a dangerous secret that teaches Boy Nobody a valuable lesson -- he can't trust anyone.
Allen Zadoff packs the third book of the Unknown Assassin series with even more action, higher stakes, and mind-blowing reveals that will leave readers riveted.
Action-packed
Fast-paced
Page-turner
Who do you trust?
What will happen next?
Who will survive?
In this exciting conclusion to Zach's (aka, Boy Nobody, aka Ben, aka Daniel) story, Zadoff dives us head first into the craziness that Zach's life has become. Howard has been kidnapped, Zach thinks his father may still be alive, and Mike, or The Program, or both, are questioning Zach's loyalties. This one started intense, and remained so until the very end.
I could feel Zach's questions rising from the pages. His confusion. His doubts. His loyalty to his new friendship. His loyalty to the doctrine The Program trained him in. His respect of Mother and Father. His desire for normalcy and trust. So many conflicting emotions and feelings. I really felt for the guy! I liked being in Zach's head, balancing the trained assassin and soldier that he was with the 16 year old kid finally questioning what's going on around him. His suppressed fear battling with his ever emerging emotions. His swaying loyalties. His instincts driving him toward a friendship he could trust and a girl he hoped he could also trust.
Zach had such a compelling character, and I was rooting for him the entire time - that he would make the right decisions, that The Program would not stop him, that he would solve the mysteries boggling him, and that he would finally find friendships he could believe in and be the peaceful soul I think he bone-deep wanted to be. I also loved Howard and his character and the role he played. I love that he's just a simple guy, but even in fear, he is a fierce friend, completely reliable, and ready to do battle. Tanya was quite the interesting mystery girl, and that's pretty much all I can say about her without giving anything away. But I liked her.
This was a series I truly enjoyed, and 'I Am the Traitor' was the perfect conclusion. I loved going on this journey with Zach, fascinated by his transition from trained assassin to loyal friend. As an adult, I loved this series, and I think mature teens would love it as well.
The Unknown Assassin Series:
I AM THE WEAPON (BOOK 1)