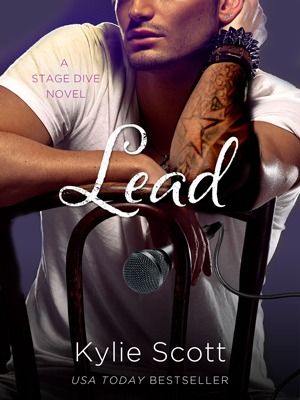 Lead by Kylie Scott
St. Martin's Griffin publishing
Genre: Contemporary Romance 18+
(Contains: detailed sex, mature language)
Source; eARC from publisher for Honest review
Synopsis:
As the lead singer of Stage Dive, Jimmy is used to getting whatever he wants, whenever he wants it, whether it's booze, drugs, or women. However, when a PR disaster serves as a wake-up call about his life and lands him in rehab, he finds himself with Lena, a new assistant to keep him out of trouble.  

Lena's not willing to take any crap from the sexy rocker and is determined to keep their relationship completely professional, despite their sizzling chemistry. But when Jimmy pushes her too far and Lena leaves, he realizes that he may just have lost the best thing that ever happened to him.
My Review:
Another Stage Dive hit! I loved Lead. Getting to know the rockers and their girls in each of these books has been a breath of fresh air. David and Evelyn, Mal and Anne, and now Jimmy and Lena - each of their stories, their love, and how they've all intertwined as their own special family is sheer awesomeness. Loved them all!
As for Jimmy and Lena's story, I genuinely enjoyed seeing how everything unfolded. We previously met Lena in book two as Jimmy's "babysitter" after the fallout of his need for rehab in book one. But we only got a glimpse of them there. Here we get it all. And when I say all, I mean the good and the bad, the heartache and the hope. Because Jimmy's past is riddled with heartache, self-inflicted and others-inflicted. And watching the way his life and his heart are revealed was definitely a process, but was so well done. It was hard and it hurt, it was also funny and sweet, and above all it was very healing. Then you throw in Lena, who has her own past she's been avoiding. But Lena is pure awesomeness. I loved her. She was the perfect match to Jimmy, even when neither of them knew it. Watching their relationship develop was difficult at times, because of where Jimmy was at, but I was fascinated by how Kylie put it all together and made it work. And while I imagine some superficial types won't believe in them, because Lena is not the typical modelesque girlfriend, I scoff at them and say, of course Jimmy and Lena work! They are perfect together!
Once again, I highly recommend Lead, as well as the entire Stage Dive series, to anyone who loves a rocker romance story, who loves humor and some heartache, who wants more than the perfect boy and the perfect girl, who likes a real boy and real girl and all their baggage, and who find their love story.
5 STARS
STAGE DIVE Series Links:
#1: LICK
#2 PLAY
#3 LEAD
#4 DEEP