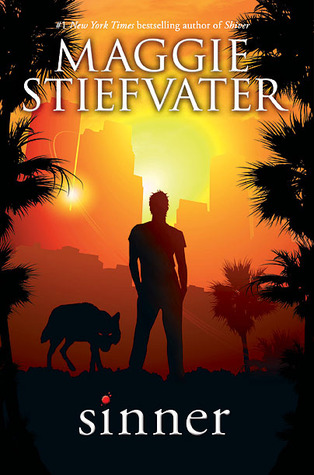 Sinner by Maggie Stiefvater
(The Wolves of Mercy #3.5)
Genre: Mature YA/New Adult Paranormal
(Contains: sexual references, mature language, mature themes)
Source: eARC and Personal purchase
Synopsis:
Sinner follows Cole St. Clair, a pivotal character from the #1 New York Times bestselling Shiver Trilogy. Everybody thinks they know Cole's story. Stardom. Addiction. Downfall. Disappearance. But only a few people know Cole's darkest secret -- his ability to shift into a wolf. One of these people is Isabel. At one point, they may have even loved each other. But that feels like a lifetime ago. Now Cole is back. Back in the spotlight. Back in the danger zone. Back in Isabel's life. Can this sinner be saved?
My Review:
SINNER is a spin-off from the Shiver Trilogy, and can be read as a standalone. Personally, I'm glad I read the trilogy first, because I really enjoyed the trilogy, the interesting take on werewolves, and the wonderful characters. My knowledge of the past, even though it's been a few years since reading the trilogy, helped round out the story for me. But even without that knowledge, enough of their past is referenced to get some idea of their past attraction and interest in each other, and this can be completely enjoyed on its own.
As for SINNER, I loved it. I wanted more story about Cole and Isabel at the end of the Shiver Trilogy, and when I found out they would finally get a story, I was ecstatic. SINNER wasn't what I was expecting, but it was so much more. Although Cole is still a werewolf, this isn't an overly paranormal read. The wolf part seemed like such a small detail. The true story was Cole and Isabel, finding themselves, finding each other, finding their truth, freeing their past, and finding their future. Their romance was enchanting. Their writing was poetic. Their struggles were honest. Their vulnerabilities were touching. Their characters bloomed. Their love was beautiful. I loved Cole and Isabel and am so happy with their story.
Did I mention I saw Maggie on her book tour?