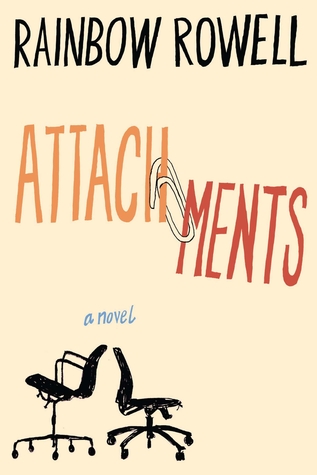 Attachments by Rainbow Rowell
Genre: Contemporary Romance
(Contains: some language and sexual references)
Source: eARC and Audible purchase
Synopsis:
"Hi, I'm the guy who reads your e-mail, and also, I love you . . . "

Beth Fremont and Jennifer Scribner-Snyder know that somebody is monitoring their work e-mail. (Everybody in the newsroom knows. It's company policy.) But they can't quite bring themselves to take it seriously. They go on sending each other endless and endlessly hilarious e-mails, discussing every aspect of their personal lives.

Meanwhile, Lincoln O'Neill can't believe this is his job now- reading other people's e-mail. When he applied to be "internet security officer," he pictured himself building firewalls and crushing hackers- not writing up a report every time a sports reporter forwards a dirty joke.

When Lincoln comes across Beth's and Jennifer's messages, he knows he should turn them in. But he can't help being entertained-and captivated-by their stories.

By the time Lincoln realizes he's falling for Beth, it's way too late to introduce himself.

What would he say . . . ?
My Review:
So cute! This was my first Rainbow Rowell read and it won't be my last. She has a new fan in me.
What an adorable way to write a romance! Lincoln, Beth, and Jennifer all work together. But Beth and Jennifer don't know Lincoln. He's the guy who works nights as an internet security officer, which includes reading flagged emails. Which is how he gets sucked into Beth and Jennifer's lives through their back-and-forth emails. What he didn't expect was that these emails would pull him so far in that he'd even fall for Beth. And what's he supposed to do with that?
Lincoln's story, his life, his perceptions, and his choices were fascinating to read. I really liked Lincoln. I loved that the story was from his point of view, and yet we also get Beth and Jennifer's perspectives through their email chats. Brilliant! What a fun yet awkward and slightly uncomfortable way to get to know our characters. What Lincoln is doing feels wrong, yet just like him I wanted to know more about Beth and Jennifer. Beyond the emails, we also get to know Lincoln from his interactions with his family and friends. The entire story had me hooked, with my nerves increasing all the while as the story built up and the point of no return was passed long ago. I was nervous and excited. I loved these characters and was fully invested in them. Plus it takes place during the whole Y2K fiasco, so I had a lot of nostalgia for living through that time period. The whole story came together so beautifully and I loved it.
If you like a unique take on a romantic story that also tackles several real life issues in a truly fascinating format with characters you will love and root for, than I highly recommend Attachments. Additionally, I enjoyed the audiobook version as well as the print version, so I would recommend it either way.