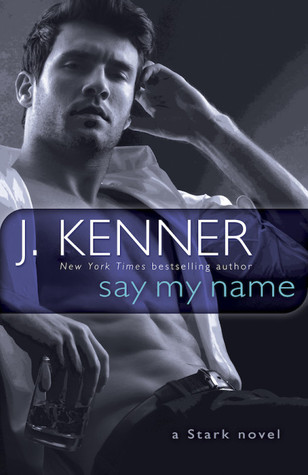 (Stark International Trilogy #1)
Genre: Adult Erotic Romance 18+
Contains: explicit sex, strong language, childhood abuse triggers
Source: eARC for Honest review
New York Times bestselling author J. Kenner kicks off a smoking hot, emotionally compelling new trilogy that returns to the world of her beloved Stark novels: Release Me, Claim Me, and Complete Me. Say My Name features Jackson Steele, a strong-willed man who goes after what he wants, and Sylvia Brooks, a disciplined woman who's hard to get—and exactly who Jackson needs.
I never let anyone get too close—but he's the only man who's ever made me feel alive.
Meeting Jackson Steele was a shock to my senses. Confident and commanding, he could take charge of any room . . . or any woman. And Jackson wanted me. The mere sight of him took my breath away, and his touch made me break all my rules.
Our bond was immediate, our passion untamed. I wanted to surrender completely to his kiss, but I couldn't risk his knowing the truth about my past. Yet Jackson carried secrets too, and in our desire we found our escape, pushing our boundaries as far as they could go.
Learning to trust is never easy. In my mind, I knew I should run. But in my heart, I never felt a fire this strong—and it could either save me or scorch me forever.
Say My Name is intended for mature audiences.
I liked the Stark trilogy. I liked it a lot. There is something compelling and engaging about Kenner's writing, and of course, reading about Damien and Nikki is no chore. So I was intrigued about this spin-off, the Stark International Trilogy, and looked forward to reading about the new characters, yet also getting glimpses of Damien and Nikki along the way. Once again, Kennner's writing is solid. Unfortunately, this is one of those cases of: maybe it's me, not you.
The first half of this book was more of a challenge to get through than enjoyable. I did not like the interactions between the two main characters and did not get the chemistry that I think I was supposed to feel. Finally, at some point after the halfway point, I could feel some connection between them and grew to like and accept them, but it wasn't quite enough to instill a deep love for them. The reality is, they only knew each other what appears to be less than 24 hours before their lengthy separation, and I just didn't feel all the deep feelings they felt for each other in such a short amount of time, though I really tried.
But I can also see that others may read this and absolutely love it, because Kenner is a great writer, and I think these characters may have some really interesting things happening in the future. There's a lot going on. And even in this book, things picked up for me in the second half. The big reveal at the end of this I already guessed, and though I have mixed feelings on this book, I am curious what will happen next. But I'm not in a great hurry. Perhaps I've become dulled by couples having excessive secrets between them and have grown tiresome of that song and dance. But when the next book comes out, I may still pick it up just to see what happens next. I may be in the minority here, and imagine there are those who will love this book.
Trigger warning: childhood sexual abuse.